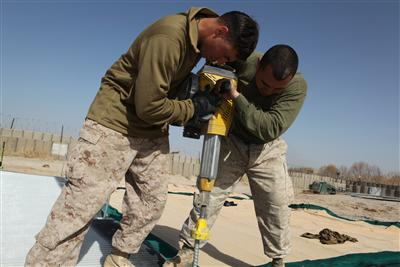 After the matting is laid, the Marines must mark the area with lights for the aircraft to use as guides.
In Afghanistan, the Marines mainly use solar-powered Carmanah lighting. While this type of lighting meets the standards for U.S. aircraft, the Marines are preparing to upgrade FOB Dwyer with hardwire lighting to meet the requirements for all coalition aircraft, explained Polistena, who is originally from Fort Lauderdale, Fla.
According to Polistena, each area has its own challenges to overcome. These challenges range from hard and uneven ground to getting the manpower and needed equipment to remote areas.
If the ground isn't flat, the heavy equipment operators have to come in and level it out before the Marines can start laying the AM2 matting, explained Lance Cpl. Jimmy Aguirre Jr., an expeditionary airfield specialist with the Aces.
"There are times even after the Marines level the ground out that we have to fill small holes or dig to smooth things out more," Aguirre said.
When the ground is hard, it is much more difficult to drive stakes into the ground to hold the matting in place.
Also, because of the weight and size of the job, the EAF Marines require a lot of help when laying the AM2 matting.
The matting comes in six and 12-feet sheets, which weighs between 75 and 145 pounds. A KC-130 runway is about 450,000 square feet of matting; it takes a lot of manpower to finish a landing strip, explained Aguirre, who is originally from San Antonio, Texas.
"Working with `expeditionary airfield Marines` gets me out of the shop and out to other places," said Cpl. Ubarnel Diaz, a combat engineer with the squadron. "I enjoy helping out my fellow Marines with accomplishing the mission."
With Afghan and coalition forces maintaining steady operations, the EAF Marines keep working to improve and construct landing zones. Their work provides another opportunity for these forces to further their mission and work toward helping the Afghan people.