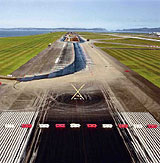 Auckland International Airport (AIAL), New Zealand, has ordered 55 units of the Carmanah Model 601 taxiway edge light for the upcoming R-5 Runway rehabilitation project scheduled to begin April 11, 2004.
Carmanah taxiway edge lights will be used to re-route taxiing planes around the closed runway section 05R/23L. Airfield maintenance crew will benefit from the lights being independent of a power source, completely self-contained, maintenance free and equipped with a rotary on/off switch for taxiway control at temporary installations.
By using Carmanah's solar-powered LED lights for the visual guidance cues, planes and the airfield maintenance crew will not be faced with the burden of cabling and wiring being strewn across existing taxiway and runway surfaces.
For more information, please visit the Auckland International Airport web site or contact Allister Wilmott, the Business Development Manager for Carmanah's Aviation Division.