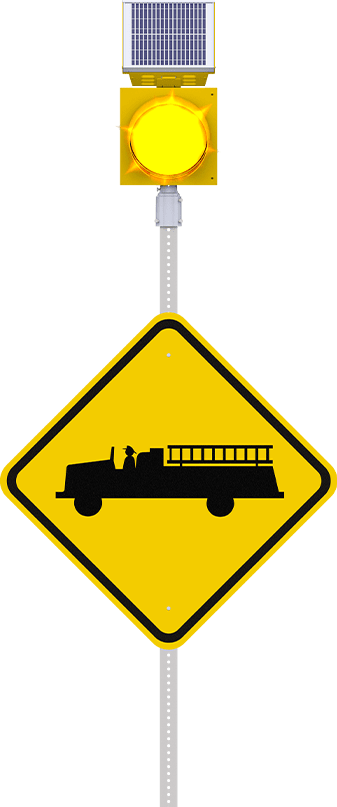 Emergency Vehicle Warning Systems
Improve safety by increasing awareness and yield rates to station-exiting emergency vehicles.
Emergency Vehicle Warning Systems
Improve safety by increasing driver compliance and yield rates to station-exiting emergency vehicles.
Every driver and pedestrian has experienced the momentary panic of hearing a siren from an emergency vehicle and not knowing how to react. Is the vehicle in front of or behind you? What direction is it traveling? What is your best course of action for getting out of the way and allowing them to get to their destination as quickly as possible?
Emergency vehicle warning systems like Carmanah's, comprised of a customizable configuration of high-intensity flashing beacons and a local wireless controller, can alleviate this stress and improve safety by providing road users with a highly visible warning that emergency vehicles are entering a roadway.
Typically installed at fire halls, hospitals, and police stations—but versatile enough to be used in a variety of applications—these systems allow first responders to activate Carmanah's compact, reliable and robust high-intensity beacons from up to 1,000 ft. away. Proven to increase awareness and yield rates, our beacons give emergency personnel the ability to exit safely and get on their way quickly.
What Carmanah's R838 Emergency Vehicle Warning Systems Offer
What components do you need?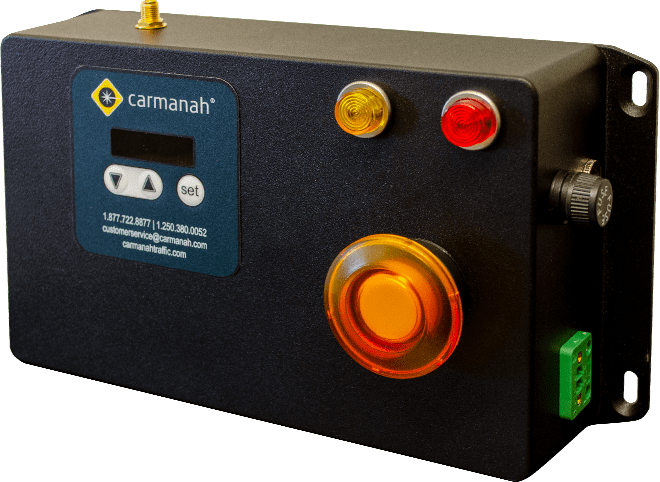 R247 Beacon(s)
MUTCD and Buy America compliant

Proven to increase driver awareness and yield rates

Highest intensity beacon output in the industry

Available in 12 or 18″ LEDs, yellow or red

Flash on-demand when paired with an R838 wireless beacon controller
R838 Wireless Beacon Controller
Allow for on-demand remote flashing beacon activation

Can be mounted at a station or inside a vehicle

Controls beacons from up to 1,000 ft. away

Can activate beacons to flash momentarily or continuously

Includes calendar/internal time clock function

Can be enabled to flash daytime and nighttime, or nighttime only
What types of applications can the R838 be used for?
The possibilities are virtually endless. Versatile by design, the R838 controller can be used for a variety of purposes and scenarios, including, but not limited to: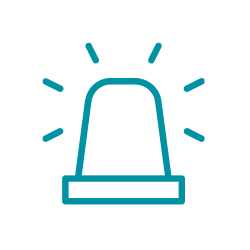 Emergency facilities, including firehalls, hospitals, and police stations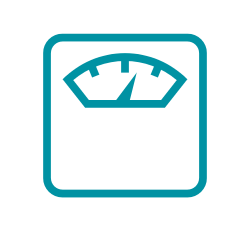 Weigh stations and other highway facilities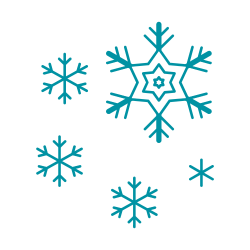 Snow and chain-up service warnings that are only in effect at certain times of year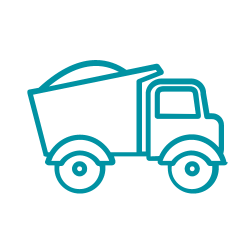 Heavy equipment warnings, such as when logging trucks are active in an area
Why Choose a Carmanah Emergency Vehicle Warning System?

Since 1996, Carmanah has built a reputation for delivering innovative, MUTCD-compliant solutions that offer cost-savings while increasing safety and ensuring environmental sensitivity. The R838 is no different. With an ultra-efficient optics and energy management system (EMS), compact design, and industry-leading light output, the R838 Emergency Vehicle Warning System is the ideal solution for cities looking to improve the safety of their roads and citizens through proactive, preventive measures.
The base for all Carmanah Emergency Vehicle Warning Systems is an R247 flashing beacon. Select one of the options below to learn more.