Increase self-correction and speed response times with with a complete, configurable, and effective defense against wrong way driving.
Increase self-correction and speed response times with with a complete, configurable, and effective defense against wrong way driving.
It's one of the most terrifying scenarios you can imagine: You're driving 70mph down a freeway late at night when suddenly, you realize there's a car or truck headed straight toward you, driving the wrong direction, in your lane. You crank the wheel in a desperate attempt to swerve out of their path, but there's not enough time. You collide head-on.

With prominent signage and medians on most highways and freeways, you might not think this type of situation occurs very often, but you'd be wrong. According to data from 
the National Transportation Safety Board
, 
wrong-way crashes claim an average of 359 lives each year in the U.S.
 And while overall vehicle crash deaths have declined in the past decade, wrong-way crashes have maintained their deadly toll. Some states have even seen an uptick in wrong-way crashes.
Carmanah's Wrong-Way Vehicle Detection and Alert Systems offer a complete, configurable, and effective defense against wrong-way driving. Typically installed at or near freeway exit ramps—the primary origin of wrong-way events—these robust and durable systems use advanced radar, camera and analytics, and LED technology to accurately detect wrong-way vehicles, warn drivers of their mistake, encourage self-correction, and notify local authorities. Two categories of systems are available to suit a variety of roadway types and requirements.
What causes wrong-way driving?
Problematic roadway design
The primary origin of wrong-way events is highway exit ramps where the direction of travel is not clear.
Poor signage and markings
Signs and pavement markers alone aren't enough to capture the attention of wrong-way drivers.
Driver impairment
50-75% of wrong-way events involve drugs or alcohol. Distracted driving and cognitive issues are other contributing factors.
Poor lighting
78% of fatal collisions occur between 6 p.m. and 6 a.m. when visibility is low.
Current treatments aren't having an impact
As states have watched the wrong-way crashes continue, or increase, many have ramped up investment in countermeasures including WRONG WAY and DO NOT ENTER signs, pavement markings, overhead lighting, and added retroreflectivity.
Despite these efforts, WWD crashes and fatalities are not decreasing, even as overall traffic fatalities have dropped off significantly.
Source: Overview of Wrong-Way Driving Fatal Crashes in the United States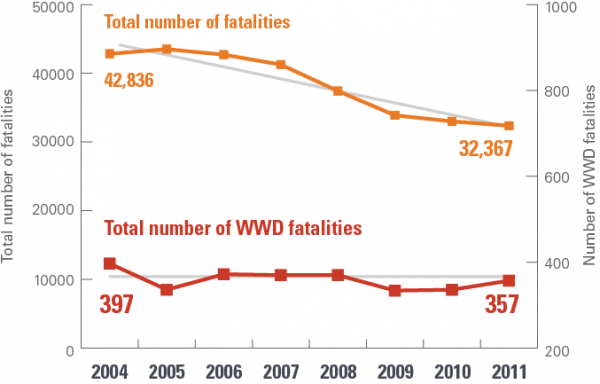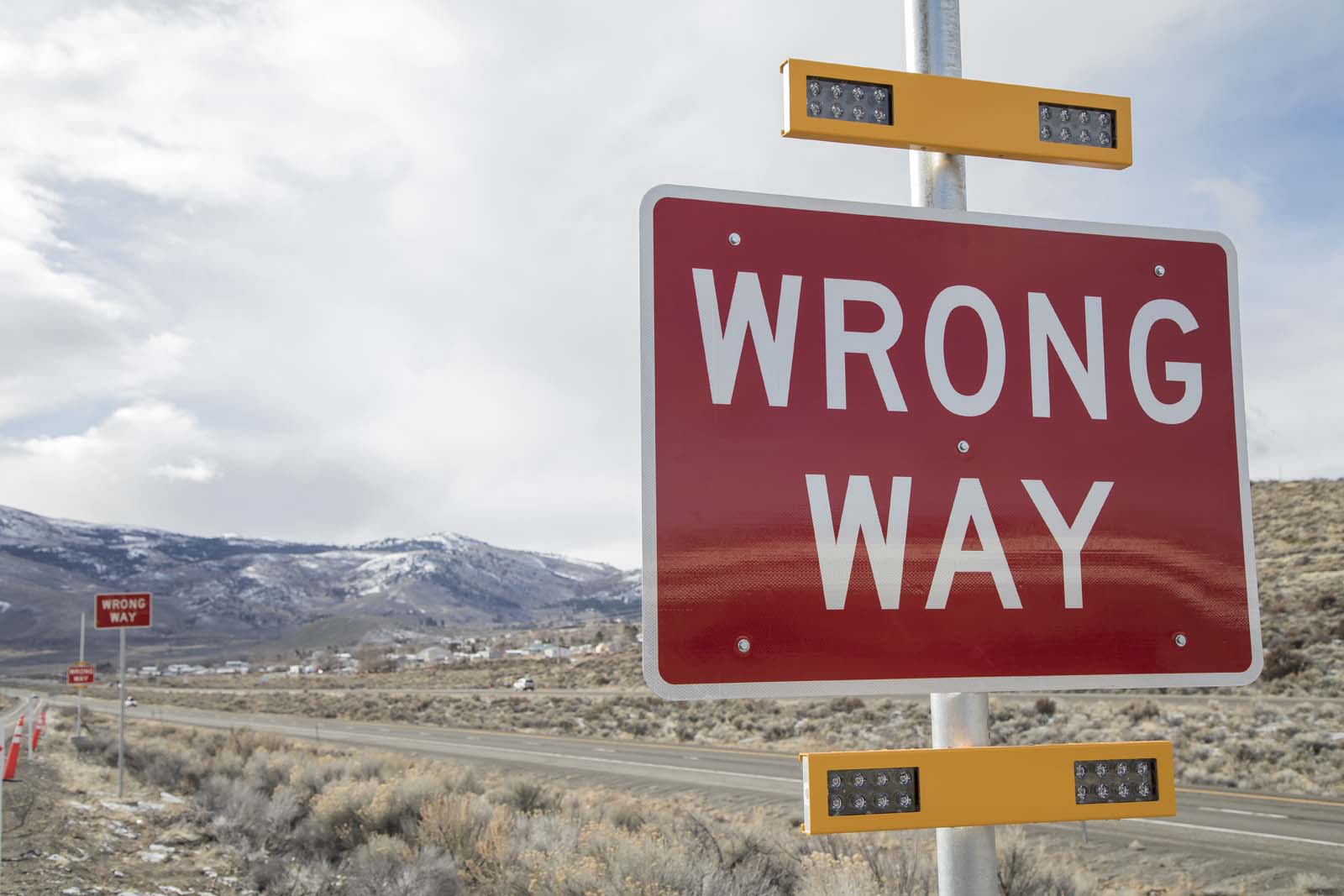 Experimental countermeasures
Some states have deployed new "experimental" countermeasures that use a variety of technologies and off-the-shelf components with varying success.
Arkansas' $3.1 million sign and pavement marking upgrades had no effect on the number of crashes
Texas' 22-month study of LED-enhanced signs found a 38% reduction in WWD events
Nevada's 46 LED light bar systems were "80% effective in stopping wrong-way drivers," according to preliminary results
Carmanah's Wrong-Way Vehicle Detection, Warning and Alert Systems add safety and reduces response times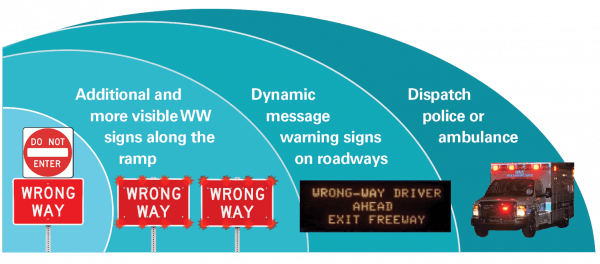 Relying on wrong-way drivers to self-correct or on other drivers to report them is dangerous and wastes valuable time. Multiple points of safety lower the risk of a fatal crash.
Research shows that adding high-intensity LEDs to signs improves self-correction.
Detection and alert technologies that notify authorities can help reduce the time to intercept wrong-way drivers, alert other drivers, and deploy first responders.
Vehicle detection and alert systems are up to 80% effective in stopping wrong-way drivers
In Nevada, 75 people died in wrong-way driving crashes between 2005 and 2015. Dissatisfied with the performance of plain signage and pavement markings, NDOT doubled down on its countermeasure efforts, piloting 46 detection and alert systems that feature the same high-intensity light bars used in Carmanah's RRFB crosswalk systems. Research is ongoing, but preliminary results showed they were up to 80% effective preventing wrong-way collisions.
Achieve Vision Zero goals with Wrong-Way Alert Systems
 Vision Zero is a worldwide movement that encourages cities to pledge to eliminate death and serious injury from their roads. Wrong-way driver systems are one tool that transportation engineers, government officials, and safety advocates can consider to help them meet their city or state's Vision Zero initiatives.
Quick links:
Additional Resources for Wrong-Way Driver Systems
Article
Wrong-Way Driving: Facts and Effective Countermeasures
Read our primer on the problem of wrong-way driving in the U.S., its causes, and proactive measures states can take to reduce this deadly crash type.
>
Case Study
Nevada uses Carmanah light bars to combat wrong-way driving
See how a pioneering new detection and alert system in Reno is helping prevent wrong-way driver situations before they become dangerous.
>
Article
Arizona Turns to Technology to Turn Wrong-Way Drivers Around
Faced with a serious and worsening public safety threat, Arizona has taken extensive steps to counter wrong-way driving, including detection technology.
>