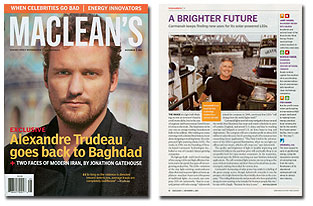 Maclean's Magazine, December 1, 2003
THE IMAGE of a light bulb blinking on over an inventor's head is a well-worn cliché, but in the case of engineer and businessman David Green it's close to the truth. The inspiration in his case was an energy-wasting incandescent bulb on his sailboat. After waking too many mornings with a drained boat battery, he set about designing something better: the solar-powered light-emitting diode (LED). The result, in 1998, was the founding of Victoria-based Carmanah Technologies Inc., hailed as one of Canada's fastest-growing companies.
The light got built — and Green's marriage of low-energy LEDs and high-efficiency batteries and solar panels has spun off an ever-growing product line. The LEDs — variations of the tiny light-emitting semiconductor chips often used as power lights on home appliances — need just 10 per cent of the power of traditional lights. As a result, says company CEO Art Aylesworth, "they're a natural partner with solar energy." Aylesworth joined the company in 2000, convinced that LEDs "will change how the world lights itself."
Carmanah lights now bob atop navigation buoys around the world; they illuminate bus stops and transit schedules in parts of London, England, and several U.S. cities; and they're marking airstrips and helipads at several U.S. air force bases in Iraq and Afghanistan. The company will turn a modest profit on about $10 million in sales this year, but it's pouring much of its resources into researching future applications. "The Holy Grail in the advancement of the LEDs is general illumination, when we can light our offices and our streets, which is off a ways yet," says Aylesworth.
The quality and brightness of light is steadily improving and Aylesworth believes the purchase price will eventually drop to an acceptable level for mass-market consumers. In the meantime, Carmanah pays the bills by searching out near-limitless industrial applications. The self-contained light systems can run as long as five years without maintenance and don't have to be wired into an electrical grid, making them ideal for remote sites.
Carmanah's harnessing of solar power has made it a darling of the green energy sector, though Aylesworth concedes it was the prospect of a bright bottom line that initially drew him to the company. "The toiling Birkenstocks and ponytails who have pushed this along are now starting to be invaded by business people like me," he says with a laugh. "Because its time is now."