Carmanah's LED illuminated street name signs have been selected by the Traffic Engineering Division of the City and County of Broomfield, CO, as part of a 12 sign improvement project.
Three signal intersections within the downtown core are being updated. As part of this project, the existing fluorescent signs are being replaced with Carmanah's LED edge-lit signs.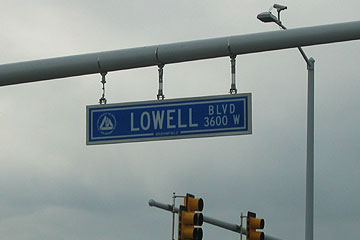 Model R409 LED illuminated sign installed in the City of Broomfield, CO. Photo submitted Dec 22, 2004, by John Coleman of Gades Sales Company Inc.
Broomfield has been a leader in the use of illuminated street name signs in Colorado, and the city currently has a significant number of fluorescent signs installed. However, due to the high cost of maintaining the fluorescent signs, Broomfield has been testing various LED signs in order to eliminate the capital and labor costs associated with fluorescent tube replacement.
After an extensive period of evaluating and installing several manufacturers' signs, Carmanah's LED illuminated street name technology was selected. The primary factors in chosing Carmanah's signs were the rugged construction, ease of installation, energy efficiency, and evenly distributed illumination.
---
For more information, visit www.roadlights.com or contact the Roadway Lighting Division at:
Toll-free (North America): 1-877-722-8877
Worldwide: +1 (250) 380-0052
Fax: +1 (250) 380-0062
E-mail: info@roadlights.com