Village at the Park, a project by D.R. Horton Inc., is a major development located in the City of Camarillo, California. When completed, the 330 acre development will consist of 914 homes, mixed-use buildings, and commercial facilities spanning 330 acres. Several major arterial roads in the city run through the development, and so part of the conditions for the project included illuminated street-name signs at the new major intersections.
The City of Camarillo has illuminated signs throughout the city that are lit using fluorescent tubes. The illuminated street name signs are very popular with the public because of the advanced visibility and clarity they provide to motorists. However, the city wanted to reduce the recurring costs it had experienced with its fluorescent signs, particularly the maintenance burden of replacing the fluorescent bulbs and ballasts. The city also wanted to reduce the energy requirements, if possible.
Initially the City of Camarillo considered LED "light engines" that could be installed into housings designed for fluorescent bulbs. However, Taft Electric Company, the electrical contractor for traffic signals for the project, recommended using Carmanah's LED edge-lit signs instead.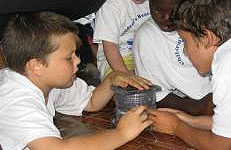 Carmanah's LED Edge-lit signs will be installed at two new traffic signal locations on Pleasant Valley Road, a principal arterial in the region. Carmanah's LED Edge-lit signs were selected because of their long-life, maintenance-free operation, and for the substantial energy savings they provided. Additionally, the City of Camarillo liked the enhanced legend illumination of the Carmanah sign. The rugged, slim-profile design of Carmanah's sign was also appealing.
Both Carmanah's single-sided and double sided signs will be used in the project. In addition to improving the visibility of the street signs, Carmanah's LED Edge-lit signs will provide a distinct look for the area. For more information, visit www.roadlights.com or contact the Roadway Lighting Division at:
Toll-free (North America): 1-877-722-8877
Worldwide: +1 (250) 380-0052
Fax: +1 (250) 380-0062
E-mail: info@roadlights.com