On July 31 2005, explosive charges were set off in the decommissioned HMAS Brisbane warship sunk off the Sunshine Coast to create a world-class dive destination and artificial reef.
The vessel as scuttled about 2.8 nautical miles east of Mudjimba Island, five kilometres off-shore from Mooloolaba.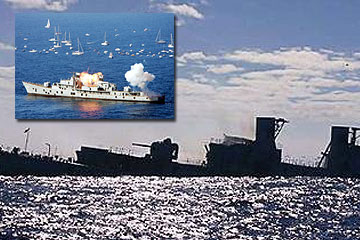 Carmanah's Model 702 marine lights are marking the location of the decommissioned HMAS Brisbane, which was sunk to become an artificial reef off Queensland, Australia.
Marking the resting place of this graceful beauty is the world's most advanced, fully integrated, solar LED three nautical mile (5.4km) navigation and hazard light. It was installed in minutes and requires no maintenance or servicing for up to five years.
Asked why he chose the light manufactured by Carmanah Tech Inc. of Victoria BC Canada, Geoff Smith (Manager Marine Operations, Maritime Safety Queensland) replied "The autonomy of the compact unit made it hard to overlook as the ship is resting a fair way off shore and it would cost too much to keep sending men out to repair the current lights used."
The light was supplied by Carmanah's Australian Distributor Orion Solar Solutions.
Carmanah has more than 150,000 units installed in 110 countries and maintains a solid reputation as the world's leader in self-contained solar LED lighting. For more information about Carmanah's unique marine lighting solutions, please contact:
In Australia:
Orion Solar Solutions
Outside Australia:
Mimi Drabit
Business Development Manager
Marine Lighting Division
Carmanah Technologies Inc.
---
This article was submitted by Mr. Richard Holliday of Orion Solar Solutions.