Carmanah has been contracted by the City of Roseville in the state of California to supply an additional 26 units of its Model R409 LED edge-lit street-name signs. These signs will be installed at various intersections in the downtown corridor.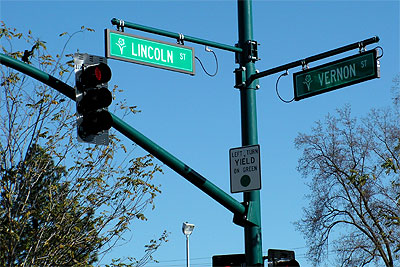 Carmanah's LED edge-lit street-name signs installed in the City of Roseville, CA.
Roseville, a chartered city that was founded in 1909 that is now home to approximately 10,000 residents, attracts thousands of tourists every year to partake in their art and museum attractions. In order to maintain its visitor-friendly and family-oriented atmosphere, Roseville implemented The Downtown Roseville Visioning Project in 1999. Installation of Carmanah's LED street signs is part of this ongoing project. Carmanah also assisted in the development of the City Logo for use on the illuminated street-name signs.
In addition to being attracted to the slim-look of Carmanah's LED edge-lit street signs that help contribute to the aesthetically pleasing downtown décor, it was most appealing that Carmanah's signs save on maintenance and energy costs for The Downtown Roseville Visioning Project. Roseville is also planning on a retro-fit plan to replace some of the aging fluorescent street-name signs in the city.
Carmanah's LED Edge-Lit technology provides a rugged, no maintenance solution for internally illuminated street-name signs and other traffic signs. Designed with high-flux, ultra-bright LEDs, Carmanah's LED Edge-Lit signs will operate maintenance-free for over 50,000 hours, with no bulbs or ballasts to replace.
Carmanah's edge-lit technology is extremely energy efficient and is ideal for traffic sign applications because it provides ultra-bright, uniform illumination of the sign. The technology consists of LEDs mounted along the top and bottom edge of the sign, concealed in the frame. Carmanah uses high-flux LEDs that provide exceptional brightness and durability.
With more than 250,000 installations, Carmanah is a world leader in solar-powered LED lighting and solar-power solutions. For more information, visit www.roadlights.com or contact Carmanah's Roadway Division at:
Toll-free (North America): 1-877-722-8877
Worldwide: +1 (250) 380-0052
Fax: +1 (250) 389-0040
E-mail: info@roadlights.com
About Carmanah Technologies Corporation
Carmanah is an award-winning manufacturer specializing in energy-efficient technologies. The Company is currently focused on three technology groups: solar-powered LED lighting, solar power systems & equipment and LED-illuminated signage.
Carmanah is headquartered in Victoria, British Columbia, Canada and has branch offices and/or sales representation in 11 cities across Canada, the United States and the United Kingdom. With more than 250,000 installations worldwide, Carmanah is one of the world's premier suppliers of energy-efficient products.
The shares of Carmanah Technologies Corporation are publicly traded on the TSX under the symbol "CMH" and on the Berlin and Frankfurt Stock Exchanges under the symbol "QCX". For more information, please visit www.carmanah.com.