Carmanah's Roadway Division has received an order to provide several units of its UL-listed, industry-leading R409 LED illuminated street name sign for the City of Oakland, California.
This order follows a previous purchase for an evaluation unit of the R409, which was successfully trialed by the City of Oakland and is expected to lead to additional future orders.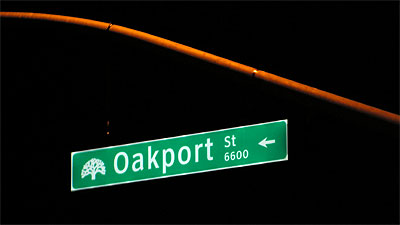 Carmanah's R409 LED edge-lit street-name sign installed in the City of Oakland, California.
For several years, the City of Oakland has been using fluorescent-lit street signs at various intersections throughout the city. Because these signs are now aging and are prone to failure, the City is now specifying Carmanah's signs for their crisp, uniform illumination and their ten to twelve years of maintenance-free operation. As well, Carmanah has the ability to accurately incorporate the City of Oakland's intricate logo on the signs.
Designed with high-flux, ultra-bright LEDs and a rugged, slim-profile design, Carmanah's LED R409 edge-lit signs are built to rigorous industrial quality standards, and feature maintenance-free performance for up to 50,000 hours with no bulbs or ballasts to replace. Compared to traditional fluorescent signs and other LED illuminated signage, Carmanah's LED edge-lit signs provide greater energy savings and are easier and less expensive to install. For example, a six-foot sign requires less than 15 Watts, compared to 192 Watts for a fluorescent sign, and 88 Watts for a LED retro-fit sign. Carmanah's signs utilize the most advanced LED technology and are engineered to provide brilliant, crisp illumination while enduring the harshest of environmental conditions.
For more information, visit www.roadlights.com or contact Carmanah's Roadways Division at:
Toll-free (North America): 1-877-722-8877
Worldwide: +1 (250) 380-0052
Fax: +1 (250) 389-0040
E-mail: info@roadlights.com
About Carmanah Technologies Corporation
Carmanah is an award-winning manufacturer specializing in energy-efficient technologies. The Company is currently focused on three technology groups: solar-powered LED lighting, solar power systems & equipment and LED-illuminated signage.
Carmanah is headquartered in Victoria, British Columbia, Canada and has branch offices and/or sales representation in 11 cities across Canada, the United States and the United Kingdom. With more than 250,000 installations worldwide, Carmanah is one of the world's premier suppliers of energy-efficient products.
The shares of Carmanah Technologies Corporation are publicly traded on the TSX under the symbol "CMH" and on the Berlin and Frankfurt Stock Exchanges under the symbol "QCX". For more information, please visit www.carmanah.com.