Carmanah's LED Sign Group is pleased to report that the Company sold more than 1950 of its proprietary LED-illuminated ice tubs in 2005, representing more than four times the number of units sold in 2004, when it was introduced to the market.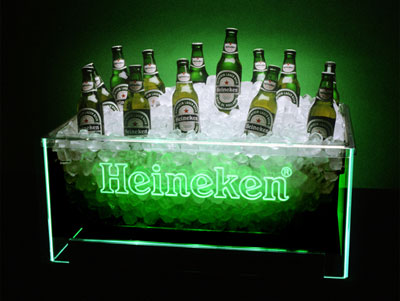 Carmanah's unique LED-illuminated ice tub.
Purchased and put into use by a number of major brewers, Carmanah's LED-illuminated ice tubs create a unique point-of-purchase display that is both eye-catching and functional. The perfect compliment to any bar or tabletop, these beverage serving bins chill bottles or cans while drawing attention to the brand with crisp, LED edge-lighting. In addition to both on and off-premise promotions, the tubs are used for sampling, and special and corporate events. With a removable high-strength polycarbonate food grade tub, Carmanah's LED illuminated ice tubs can be easily refilled to continuously compliment and enhance brands and promotions.
Carmanah's proprietary computerized engraving and laser-etching techniques have the ability to take even the most intricate logos and engrave them onto custom, illuminated signs and surfaces. Using Carmanah's LED edge-lighting technology a colored glow is created that illuminates the logo, the ice and the edges of the stand.
Carmanah's LED illuminated ice tubs are ideal for club and bar environments where a glowing, but subtle illuminated solution is desirable. Virtually indestructible, LEDs are also maintenance free for up to 10 years and generate negligible heat, which leads to additional energy cost savings.
For more than a decade, Carmanah's innovative, custom illumination and visual identity solutions have been helping clients throughout North America and around the world distinguish and increase brand presence in the marketplace. The Carmanah Sign Group now has more than 50,000 LED edge-lit signs installed worldwide.
For more information about Carmanah's unique LED illuminated sign solutions, please contact:
Maxwell Goldstein
Eastern Division
Tel: +1 (416) 322-2860 Ext. 3028
Fax: +1 (416) 322-6371
E-mail:
Marc Fournet
Western Division
Tel: +1 (250) 380-0052 Ext. 259
Fax: +1 (250) 380-0062
E-mail:
Web Sites: www.carmanah.com | www.edgelitsigns.com
About Carmanah Technologies Corporation
Carmanah is an award-winning manufacturer specializing in energy-efficient technologies that fundamentally change the way its customers operate. The Company is currently focused on three technology groups: solar-powered LED lighting, solar power systems & equipment and LED-illuminated signage.
Carmanah is headquartered in Victoria, British Columbia, Canada and has branch offices and/or sales representation in 11 cities across Canada, the United States and the United Kingdom. With more than 250,000 installations worldwide, Carmanah is one of the world's premier suppliers of energy-efficient products.
The shares of Carmanah Technologies Corporation are publicly traded on the TSX Venture Exchange under the symbol "CMH" and on the Berlin and Frankfurt Stock Exchanges under the symbol "QCX". For more information, please visit www.carmanah.com.