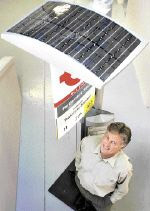 Carmanah Technologies CEO Art Aylesworth stands with the company's solar bus stop, which is used in London, England.
 
Carmanah Technologies Corp. of Victoria, which makes solar-powered lighting, says a 115 per cent sales increase led to a first-quarter profit of $369,492.
Earnings for the quarter ended March 31 amounted to 1.3 cents a share and compared with $12,915 or a tenth of a cent in the year-earlier quarter, Carmanah reported Monday. Record revenues of $4.11 million were 24 per cent higher than the previous record achieved in 2003's fourth quarter.
Carmanah is an alternative-energy firm specializing in patented solar-powered LED lighting for the marine, aviation, transit, roadway, railway and mining markets.
"This has been a very strong quarter for Carmanah, consistent with our financial objectives for 2004," CEO Art Aylesworth said in a release. "Building on the significant momentum of Q4 2003, we are now making excellent headway in all strategic areas of our business."
Carmanah also won the industry award for export performance recently from the Globe Foundation of Canada.
"The Globe awards could be considered the 'Oscars' for Canadian environmental innovation.' said Aylesworth. "The industry award for export performance represents the most significant and presdtigeous national award received by Carmanah to date and all members of our staff are very proud of the achievement."
Carmanah, which won the award for solar-powered bus stops exported to the city of London, England, beat three finalists from Ontario — Fuelling Technologies, Trojan Technologies and Lotek Wireless — in the category.
During the past six months, Carmanah has received $2 million in orders from London for the bus stops and shelters.