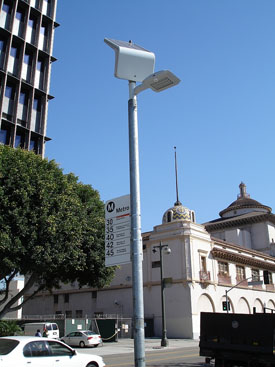 The City of LA is trialing two Carmanah EverGEN 1710 solar LED lighting systems in consideration for use in future lighting projects. The solar LED lighting systems have been installed to provide illumination at a busy city bus stop near the LA City Department of Public Works Office Complex. Incorporating occupancy sensors, the units provide illumination that is responsive to motion, ramping from low level illumination to full brightness when motion is sensed.
The City expects that the new EverGEN 1700 series of solar LED outdoor lighting by Carmanah will provide a versatile solution that meets a variety of illumination requirements. The Carmanah EverGEN solar LED lights offer performance and functionality that makes them ideal for a host of different illumination projects including pedestrian pathways, recreational pedestrian facilities, bus stops and parking lots.
The City of LA is a leader in the installation of renewable and energy efficient technology and already has Carmanah solar LED lighting installed in different locations throughout the City for applications such as transit stop lighting and street lighting.