Redland Shire Council in Cleveland, Qld., has recently implemented two projects involving Carmanah's solar-powered lighting to increase security of public walkways within it's residential sub-divisions. Carmanah's Authorized Distributor, Orion Solar Solutions, had originally been appointed as a preferred supplier to the Council for supplying marine navigation lights for the Council's waterways in Moreton Bay. As a result of this relationship, the Council saw opportunities to illuminate pedestrian walkways using some of Carmanah's other solar-powered LED lighting products.
The Council installed a total of 10 of Orion's self-contained illuminated bollards to mark a park pathway. Each bollard contains Carmanah's solar LED lighting technology, which has been field-proven in rugged marine and military environments. The units were installed in minutes, requiring no trenching for power cables and the lights switch on automatically at dusk and off at dawn.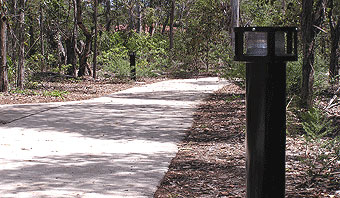 Solar-powered LED illuminated bollards installed by Orion Solar Solutions on a pathway in Redland Shire, Cleveland, Qld.
With virtually no maintenance and no running costs, Orion's bollards are a fraction of the cost of traditional hard-wired electrical bollards. Redland Shire is now looking to Orion Solar Solutions to enhance safety and reduce costs by using solar-powered LED lighting in various projects around the Shire.
In another project, Carmanah's GI-100 solar LED area lighting system was installed to illuminate a public easement between a residential street and a shopping centre, previously frequented by local youths. The GI-100 includes a head unit with solar panel, batteries and electronics, interconnected to dual luminaires that can be mounted in a variety of positions.
As with all of Carmanah's solar LED lighting products, the GI-100 switches on and off automatically, requires almost no maintenance, incurs no running costs and is inexpensive to install. This technology operates reliably around the world, in many cases in latitudes where they receive only a few hours of sunlight each day. The GI-100 is frequently used to illuminate bus shelters, picnic sites and other outdoor public facilities.
For more information, contact:
In Australia:
Orion Solar Solutions
Freecall: 1800 786 608
Fax: (07) 5525 1906
E-mail: info@orionsolar.com.au
Outside Australia:
Carmanah Technologies Corporation
Toll-free: 1-877-722-8877 (USA and Canada)
Worldwide: +1 (250) 380-0052
Fax: +1 (250) 380-0062
E-mail: info@obstructionlights.com
Web: www.obstructionlights.com
About Carmanah Technologies Corporation
Carmanah is an award-winning manufacturer specializing in energy-efficient technologies. The Company is currently focused on three technology groups: solar-powered LED lighting, solar power systems & equipment and LED-illuminated signage.
Carmanah is headquartered in Victoria, British Columbia, Canada and has branch offices and/or sales representation in 11 cities across Canada, the United States and the United Kingdom. With more than 250,000 installations worldwide, Carmanah is one of the world's premier suppliers of energy-efficient products.
The shares of Carmanah Technologies Corporation are publicly traded on the TSX Venture Exchange under the symbol "CMH" and on the Berlin and Frankfurt Stock Exchanges under the symbol "QCX". For more information, please visit www.carmanah.com.
---
This sales update was provided by Orion Solar Solutions, Carmanah's Authorized Distributor for Australia.