Through JF Casino & Hotel Products, an authorized reseller, Carmanah's LED Sign Group has supplied the Intercontinental San Juan Resort, Spa & Casino, Puerto Rico, with a number of its proprietary "Slot Topper" LED edgelit signs. These unique signs will be used to enhance slot machines at award-winning beachfront casino.
Located just 1.5 miles from the San Juan Airport on Puerto Rico's popular Isla Verde, the Juan Resort, Spa & Casino is a AAA 4-Diamond beachfront destination resort. The resort's casino selected Carmanah's slot topper signs because of their unique LED edge-lighting technology, as well as their relatively low cost and long operating lifespan.
About Carmanah's LED Illuminated Slot Topper Signs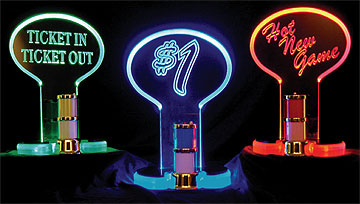 Carmanah's LED edge-lit "Slot Topper" signs.
Carmanah's specialized slot toppers are affordable LED edge-lit signs can be used to advertise denominations, non-smoking areas, new slots, ticket-in ticket-out machines, etc. Features include:
Bright and efficient LED illumination
Proprietary edge-lighting provides crisp, eye-catching performance
Customized messaging and shapes
Low capilization cost and no maintenance for up to ten years
1 year warranty
Carmanah's LED Sign Group has more than 60,000 LED illuminated signs installed with customers worlwide, including more than 450 gaming establishments. For more information about the Company's unique slot toppers or its LED illuminated signs in general, please visit www.casinosigns.net or contact:
Susan Bevan
Tim Quan
Gaming Division, Carmanah Sign Group
Carmanah Technologies Corporation
Toll-free: 1-800-665-3749 (USA and Canada)
Worldwide: +1 (403) 252-6047
Fax: +1 (403) 252-5580
E-mail:
Web Sites: www.carmanah.com | www.casinosigns.net
About Carmanah Technologies Corporation
Carmanah is an award-winning manufacturer specializing in energy-efficient technologies. The Company is currently focused on three technology groups: LED-illuminated signage, solar-powered LED lighting and solar power systems & equipment.
Carmanah is headquartered in Victoria, British Columbia, Canada and has branch offices and/or sales representation in 11 cities across Canada, the United States and the United Kingdom. With more than 250,000 installations worldwide, Carmanah is one of the world's premier suppliers of energy-efficient products.
The shares of Carmanah Technologies Corporation are publicly traded on the TSX under the symbol "CMH" and on the Berlin and Frankfurt Stock Exchanges under the symbol "QCX". For more information, please visit www.carmanah.com.