Carmanah Technologies Corporation was among 90 companies exhibiting at Island Tech 2005, Vancouver Island's showcase celebrating the world-class innovation, research and technology generated on Vancouver Island.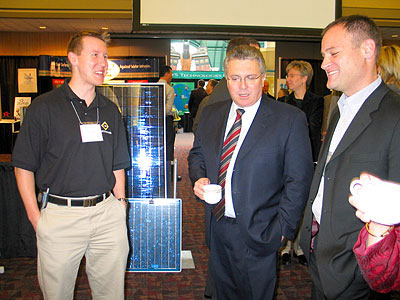 Carmanah's Sean O'Connor, Mobile Sales Representative – Power Systems Group, is shown speaking about solar with Murray Cole, Minister of Advanced Education and Minister responsible for Research and Technology.
The Island Tech 2005 event also provided a chance for the public, media, government, and potential investors to learn more about companies working in Vancouver Island's thriving technology community. The one-day event drew more than 2500 visitors.
For more information about the Island Tech event, visit:
http://www.islandtechshowcase.ca/index.php