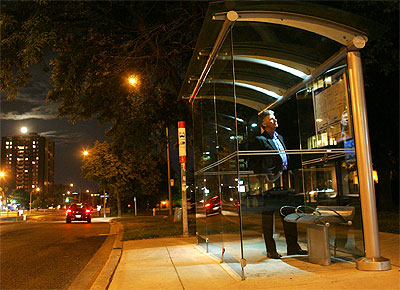 Art Aylesworth, CEO of Carmanah Technologies, which has just made a deal for solar-powered bus stops in Chicago.
Victoria-based Carmanah Technologies has landed a contract to supply a suburban Chicago bus service with its solar-powered, illuminated bus stops. It's the company's third such deal in three weeks, and with a slew of other transit authorities across North America currently testing its product, more orders are possible.
Starting at the end of August, Carmanah will begin installing the recent order, worth $885,000 over five years, of its i-STOP™ lighting system for PACE, the suburban division of Chicago's Regional Transportation Authority.
"We are doing trials of this with about 100 different transit authorities in North America," Matthew Watson, vice president corporate development, Carrrianah Technologies Inc., said in an interview. "So we are expecting some significant further purchases within the next few months."
According to Carmanah, the i-STOP™ allows transit authorities to provide area lighting around bus stops for a safer environment and so drivers can see passengers better. Its edge-lit schedules also let passengers view bus information at night.
As well, because the i-STOP™ is designed to fit all standard bus stop poles and is a selfcontained unit, installation. is much easier. "Transit authorities are loving Carmanah's product because you can put in an illuminated bus stop in three hours in rural areas. You don't need to trench and wire, disrupt traffic," said Marcel Brichon, a research analyst at Northern Securities in Vancouver.
"In New. York City, it can take up to eight months to get approval for digging up and connecting to power. In places like California, where they have had power problems, they don't need to drain on their power grid. And if the power stops, the bus stop is still illuminated."
The Chicago deal started 18 months ago with a trial of 19 units on a major bus and rapid transit route. This follow-up order of 750 units represents the single largest sale of i-STOP™ units for Carmanah.
Still, by dollar value, this deal itself "is not huge," Brichon said. "But in time, we can expect Chicago may want more of these things, or be interested in complimentary products like Carmanah's illuminated bus shelters."
Since early June, the company has signed two other similar deals: one to provide $400,000 in illuminated bus shelters throughout Seattle over the next two years; and the other to supply 225 bus shelters in Vancouver to Viacom Outdoor JCDecaux Street Furniture, a joint venture between Viacom Outdoor Canada and JCDecaux, two outdoor advertising companies.
quot;It's very exciting for our transit department as `the Chicago deal` represents a very serious commitment from one of North America's leading transit agencies to our i-STOP™ product and to Carmanah as a technology provider," said Watson. It tells people if we can do solar in Chicago and Toronto, we can do it anywere. In North America, that is very helpful."
Carmanah's solar-powered lights are also used along roads and railways, in landscaping and in marine applications. It is listed on the TSX Venture Exchange.