The Vancouver Island technology community raised almost $50,000 at the Canary Foundation's picnic and inaugural Canary Derby. The money was donated to the BC Cancer Foundation, Vancouver Island for the BC Cancer Agency's Trev & Joyce Deeley Research Centre.
In the Canary Derby, 12 technology companies designed, built and raced soapbox cars, with Aspreva Pharmaceuticals taking first place. The top three fundraising teams were Carmanah Technologies ($8,100), GenoLogics Life Sciences Software ($6,851) and Aspreva ($3,500).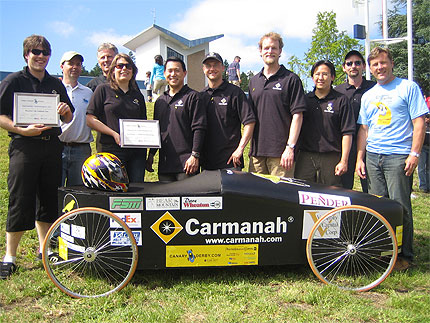 Canary Foundation founder Don Listwin (right) and Canary Derby organizer Michael Ball (second from left) congratulate Art Aylesworth (third from left, in back) CEO of Carmanah Technologies and his team for being the top fundraiser.