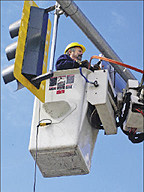 Sharon Tiffin/VicNews
City of Victoria worker Les Keddie wires the new LED lights Thursday on Blanshard Street in front of the Save-On-Foods Memorial Centre.
The city installed four LED-illuminated street signs, made by Carmanah Technologies Corp. of Victoria.
The company says the high-tech, ultra energy-efficient signs should operate maintenance-free for over 50,000 hours. They provide extra-bright, uniform illumination while using less than 10 per cent of the wattage of fluorescent signs.
This was the first such installation in Canada.