Good house numbers are hard to find.
No doubt you're running into this problem if you're seeking new numerals for your freshly painted abode. Or craving a little va-va-voom to update your home's exterior. Or trying to make your home easier to find for firefighters, paramedics and even the pizza guy.
But the usual suspects are forever filling shelf space: black plastic curved in '70s-style script, brass that becomes a mere gold glint in the sun's glare and country-craft paint-it-yourself wood. Even some of those customized plaques look pedestrian and aren't easy to read from the street.
Fortunately for house-number hunters, companies are filling the void, selling well-turned 1s, 2s and 3s online. Most numbers are crafted large enough to see if you're driving by and specialized enough to coordinate with any architectural style.
"People are always thanking us after they discover us," says Colleen Convey, production assistant at Rocheford Handmade Tile in Minneapolis. "They say they've spent so much money making their house look nice, but all they can find are cheap- looking numbers."
Rocheford, at www.housenumbertiles.com, sells 4-by-6-inch terra-cotta squares painted in Arts and Crafts, traditional and Victorian fonts. But the numbers are unadorned enough to read, making them decorative and useful.
Emergency workers often see attractive house numbers on the job, but homeowners tend to not consider enough details about what's best to buy or how to display them. According to Mike Hall, Olathe Fire Department spokesman, numbers should:
Stand at least 4 inches tall.
Contrast with the color of the house.
Read clearly day and night.
"Yard markers and numbers painted on curbs don't do the trick," Hall says. "Cars park in front of them. So people should always have them on their houses."
Decorative house numbers usually start at $10 per number and cost up to $65 for hand-cut metal. Whole address plaques start at $30, but colors, finishes and styles seem limited.
Businesses can be fined up to $500 if they don't have address numbers, but cities usually don't have laws concerning residential numbers. Just the same, displaying them on the house is crucial, says Eric Dooley, spokesman for MAST Ambulance, which serves Kansas City and a dozen other cities in Missouri.
"Otherwise we have to guess where a house is, and then there could be a delay," Dooley says. "We've gone to houses next door rather than the ones we were trying to get to."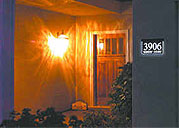 LED Illuminated Address Sign from Carmanah Technologies Inc.
Companies have begun selling well-designed illuminated house numbers (people are forever forgetting to flip on the porch light). Carmanah, of Canada, www.addresslighting.com, introduced house numbers this year that run on LEDs (light emitting diodes). They use 90 percent less power than light bulbs and start at $110 for signs that include the whole house number.
"People want safety features," Carmanah spokesman Dave Davies says. "But they also want them to be attractive and energy-efficient."