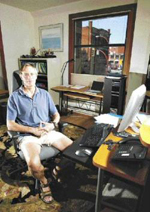 Photo Credit: Ray Smith
David Green, founder and chairman of the board of Carmanah Technologies, is one of three nominees for the Colin Lennox Award for Technology Champion. While he is honoured by the recognition, Green says he's worried he might have to speak at the awards ceremony. "I'm still too shy," says the 56-year-old scientist and entrepreneur.
Dave Green is a wreck. It's a white hot Friday afternoon, six days before the Vancouver Island Advanced Technology Centre hands out its annual awards, and Green is sweating.
It has nothing to do with the fact his second-floor corner office suite at Market Square has no air conditioning and the still summer heat has us glued to the seats.
No, his perspiration is down to the fact he has to attend an awards ceremony and, heaven forbid, he might actually win something. And then, horror of horrors, he will have to speak to an audience.
"It's just not my thing, I can do it but I hate it," said the founder and chairman of the board of Carmanah Technologies, who along with Terry Curran of the Department of Fisheries and Oceans and John Harley of How2Share Technologies has been nominated for the Colin Lennox Award for Technology Champion.
No, despite the fact he's established a company that is a world leader in the production of solar-powered LED (light-emitting diode) lighting products, Green's not a fan of the limelight.
"Of course, I've been worrying about this since I found out about it," said the 56 year-old with a nervous laugh. "I'm still too shy … I'm always worried that I'll see someone I recognize, but I've forgotten their name."
Normally he'd hand off the speaking duties and personal appearance to Carmanah CEO Art Aylesworth, but Green knows that's not an option this time around.
That's because this award is for a lifetime of work put into the sector.
"That's really validating," he said. "Because you don't get a lot of recognition in this industry, especially when you're a private company. It's a hard working life."
Though Carmanah is a public entity, and has developed a high profile locally, Green toiled in relative obscurity for years as one of the founding members of the Axys group of companies that started in 1974 with an environmental consulting company.
That grew into a suite of companies — Axys Environmental Consulting, Axys Analytical Services, Seastar Chemicals, Axys Environmental Services and Seastar Optics — all held together by a group of oceanographers who put their personal cash, homes and credit cards on the line to keep it above water.
"It was a real team-building exercise," Green says, his easy smile breaking into a laugh at the memories of unbearably long hours, little or no pay and plenty of stress.
"It's a pretty exciting lifestyle — a lot of adrenaline."
But hanging on by the skin of your teeth starts to wear on you, said Green, noting he pulled out in 1989 after 14 years.
Green says he just couldn't handle it anymore, and sold his shares to his partners for about $500,000 and searched for work. His partners managed to hold on another six years and were rewarded handsomely when SDL Optics bought Seastar Optics for about $15 million — SDL would in turn sell to JDS Uniphase for another massive profit.
Meanwhile Green landed in Fiji and a job at the University of the South Pacific, which he stayed with for three years.
But Victoria beckoned him home in 1993, and on a sailboat he bought from another Canadian living in Fiji, he sailed back with his family. It took nine months, enough time to run out of money, and enough time to think about the next phase of his life.
"I was out there thinking, 'OK Dave, now what; what's next?' " he said. "I had no job to come back to; I had been out of the workforce (in Victoria) for five years; I had three kids and I was 45."
A light did go on in his head during the sail home, an idea for an anchor light, and the birth of Carmanah Technologies.
And though there were plenty of bumps along the way — he was unable to find white LEDs at first (anchor lights are supposed to be white and only yellow or red was available) — he parlayed that idea, some cash from the National Research Council and his drive to succeed into what has become a highly successful business with revenues of $9.2 million in 2003.
He has learned a lot through his career, and much of it could never come from a textbook.
He's learned that going public rather than raising venture capital works better for his business style which requires maintaining some control of the company — he was quickly ushered out of NxtPhase, a power reliability company he started in 1997, by the venture capital investors who wanted MBAs not PhDs at the helm.
He's also learned that a business plan is worth its weight in gold.
"When I think of how energetic we all were back then (when they started Axys) and the brain power we had … if we'd used it in a way that had more business sense we could have done so much more," he said.
But most of all he's learned that while he has a knack for getting his ideas to market, he's not the man to run the show.
"I am looking forward to not being the chairman of a public company sometime in the next couple of years," he said with a resigned laugh, admitting he takes the responsibility very personally.
"Dealing with a large staff for certain personalities is no problem, but for me, who worries a lot, it's always tough," he said.
"I take on their problems, I worry that they're happy. And if it ever comes to firing someone, I can't sleep at night."
And he admits he feels the same way toward investors, which may be part of the reason he dreads public events where he may run into them.
He says it adds a whole new meaning to the question "so how's work Dave?"
Cue another sweat.
ESSENTIAL GREEN:
– Age: 56. Family: Wife Cheryl Alexander, daughters Maia, 21, Lara, 17, Alexa 16.
– Education: Royal Military College, Bachelor of Engineering Physics; Doctorate from the Institute of Oceanography at UBC
– What do you do for a living: "My wife says I'm a serial entrepreneur … I just say I am a scientist."
– When not working: Whitewater rafting is his passion. And he is eyeing another sailboat: "It's just a matter of time," he says.