Emergency sirens may be loud, but accurately determining the location and direction of travel of approaching vehicles as a driver or pedestrian can be difficult. And, if you get it wrong, you could be putting yourself in their path, causing delays in response times and compromising the safety of everyone involved.
We built the R838 wireless beacon controller to help alleviate this stress and help first responders get on their way quickly and safely. Paired with Carmanah's high-intensity R247 flashing beacons, the R838 controller allows emergency personnel to wirelessly activate the beacons outside the station, providing an eye-catching advance warning to drivers and other road users that emergency vehicles are about to enter a roadway.
How does it work?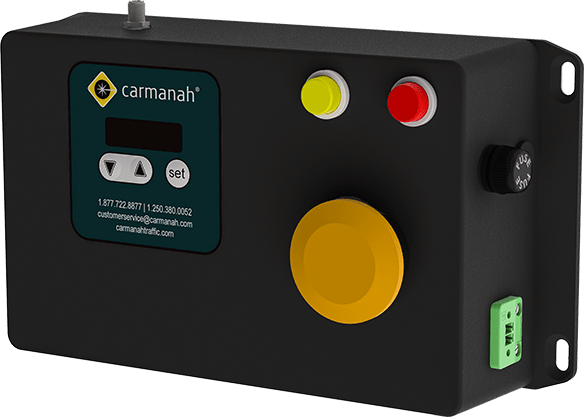 Operating the controller is simple. As an emergency vehicle is preparing to depart from its parked location, personnel hit a large orange push button on the controller, which is mounted on either the wall of the station or inside a vehicle. The controller sends an instantaneous wireless radio signal that activates the beacons on the street, up to 1,000 feet away.
Depending on the settings that have been configured, the beacons can be set to flash momentarily or continuously, as well as to flash both day and night, or nighttime only. Power (red) and activation (yellow) lights on the controller let operators know when the system is on and in use.
Where else can it be used?
Emergency services aren't the only place that can benefit from wireless beacon control. The R838 controller is simple and versatile by design, meaning it can be used for a wide variety of purposes and scenarios, including weigh stations, snow and chain-up service warnings, heavy equipment warnings—anywhere beacons need to flash intermittently rather than constantly.
Why is it effective?
By activating beacons only when a vehicle is entering a roadway—or only when heavy equipment is present, or chain-up requirements are in effect—it makes the beacons highly visible to road users, even regular commuters who are familiar with the landscape. The onset of bright flashing lights alerts them to something new, making them more alert to the content of a sign than they might have been otherwise.
Of course, it doesn't hurt that Carmanah's beacons have the highest light output in the industry, exceeding the Institute of Transportation Engineer's (ITE) requirements by 1.7x when used as recommended. As an operations foreman in Altus, Oklahoma said of our R247 beacons, "You can see those beacons blinkin' a solid mile away." In other words, plenty of time to see, react, and get out of the way.