Carmanah StreetHub™ Remote Connectivity
A simple way to connect transportation safety infrastructure to your smart city.
Carmanah StreetHub™ Remote Connectivity
A simple way to connect your transportation safety infrastructure.
Let a StreetHub™ system be your eyes on the ground, ensuring optimal safety, minimal downtime, and fewer service calls and site visits.
When it comes to pedestrian and road safety treatments, traffic engineers and signal techs often have limited access to information and controls that could help increase safety and reduce costs. Infrastructure connectivity could reduce the down-time of damaged safety devices and increase efficiency for physical site visits to update schedules, download data, and assess the overall condition of systems. These visits are costly and inefficient, but the good news is, they're also increasingly avoidable.
Since upgrading to connected school zone beacons in 2016, officials in Gwinnett County, Georgia have noted a 90% reduction in the number of calls related to the faulty operation of one or more of their beacons. (source)
Enter StreetHub, Carmanah's portfolio of high-quality beacons and signs that leverages cellular technology to allow authorized city personnel to remotely monitor and control all of their Carmanah transportation safety products from a single easy-to-use web-based platform. Set and adjust schedules, collect data, manage alerts, monitor battery and lamp health, and more—all without having to make a single site visit.
A simplified solution for infrastructure connectivity
Connecting your transportation infrastructure to your smart city doesn't have to be complicated. Unlike other "DIY" and "bolted on" solutions that require time-consuming manual configurations, data plans, user accounts, and custom software, StreetHub comes preconfigured with everything you need to get your systems online straight away.
Each StreetHub system is equipped with an on-board cellular modem and monitoring unit that allows for two-way communication and control. Once activated, StreetHub systems integrate seamlessly with the industry-leading Glance Smart City Supervisory System™, a cloud-based platform developed by Applied Information that serves as a single point of contact and control for your entire network of connected beacons and signs.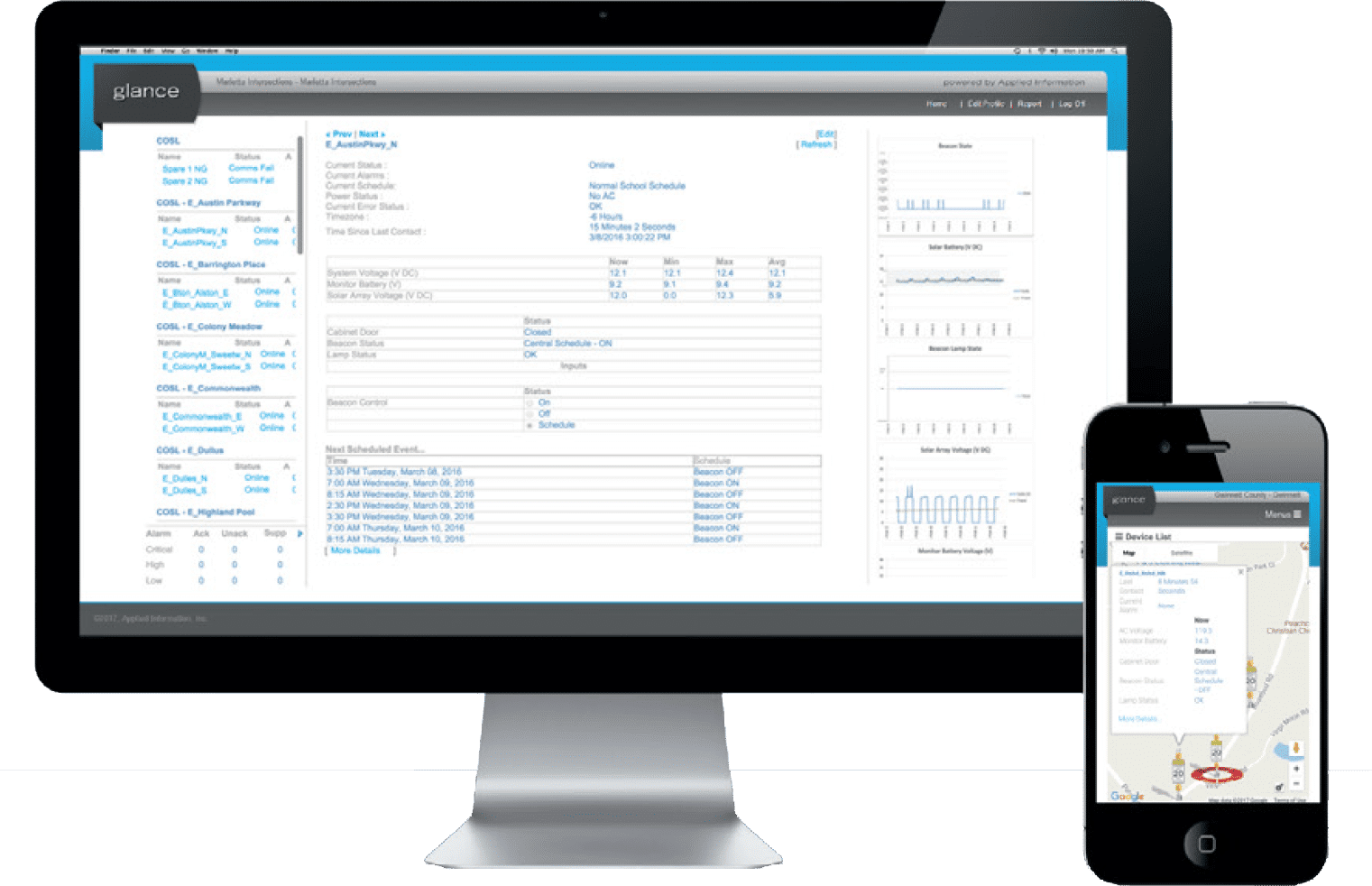 Through the platform, authorized personnel can quickly and easily access the operational status of their systems, as well as set and adjust schedules and programs, configure customizable alerts, and retrieve valuable data and insights that enable accurate treatment analysis and proactive maintenance plans. Furthermore, StreetHub allows you to extend the benefits of connectivity to your citizens via AI's pioneering TravelSafely smartphone app, a powerful tool that boosts safety by facilitating better communication between motorists, pedestrians, cyclists, and infrastructure.
Available in a variety of applications, including school zone beacons, radar speed signs, crosswalk/RRFBs, and 24-hour flashers, StreetHub is the ideal solution for cities looking to build a network of quality infrastructure that is easy to install, and efficient to monitor, control, and maintain.
What do you get with a StreetHub connected system?
Explore our StreetHub Connected Products
Download our StreetHub connected systems data sheets below.