Carmanah's technical bulletins are intended to provide updates, clarification, and guidance on the installation and maintenance of our products. They convey relevant technical product information to our partners and customers. Please contact us if you have any questions about the content of this bulletin.
Product Applicability
This bulletin applies to the following products:
· E / F / G Series, and replacement Energy Management System (EMS) – versions that have the ability to adjust the "rF" (radio) setting on the user interface. Only systems that have the optional wireless radio add-on will be affected.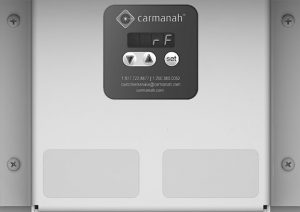 Background
Systems that contain the EMS version noted above have the ability to turn the optional radio on and off. These systems can produce unintended results for crosswalk and other applications where two or more systems are located within wireless communication range. This can happen when:
System 1 has a radio and has "rF" set to "off"

System 2 is a nearby system within wireless range, but not necessarily at the same crossing

System 2 has a radio, has "rF" set to "on," and is on the same channel as system 1

Once system 2 is triggered via its input method (pedestrian pushbutton, school zone schedule, etc.) it will cause system 1 to enter a "locked" state and cannot be activated as per the normal method
The EMS of system 1 will show that it is powered up and appear functional, however system 1 will not be able to be triggered via its normal input method. The system will return to its normal state if a power cycle is performed but will still be vulnerable to the same scenario as above.
Procedure
Starting with EMS firmware release 1.1.3.0 (2020 late Q1) this issue has been resolved. If your system is running an older release and has the optional radio, we do not recommend turning the radio off for any reason. If you are trying to isolate the system from other nearby systems that also have the optional radio, you will want to make sure each crossing, whether it is one system or many, is set to its own unique channel. The EMS has the ability to select between 14 different channels.