Carmanah's technical bulletins are intended to provide updates, clarification, and guidance on the installation and maintenance of our products. They convey relevant product information to our partners and customers. Please contact us if you have any questions about the content of this bulletin.
Product Applicability
This bulletin applies to the following products:
A limited number of R829 school zone systems that shipped between Feb. 9, 2021, and Oct. 16, 2021, which were intended to be used with the built-in calendar function, may be affected.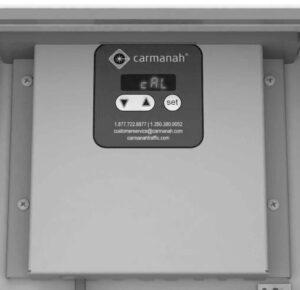 Background
Carmanah's school zone beacons include a built-in scheduling option. The systems are pre-configured at the factory so that calendar programming can be easily done onsite. Some beacons shipped in 2021 were not delivered from the factory with this function enabled and will require a manual setting change using the on-board user interface. This is a quick-change setting, requiring only a few minutes on site.
Procedure
If the beacons are not turning on once the calendar has been applied, you will need to access the system's on-board user interface and enable the calendar setting.  Please follow the steps found in our online Product Support Center article.
Our Product Support Technologists are available to assist you via phone, chat, or email if you require additional assistance.