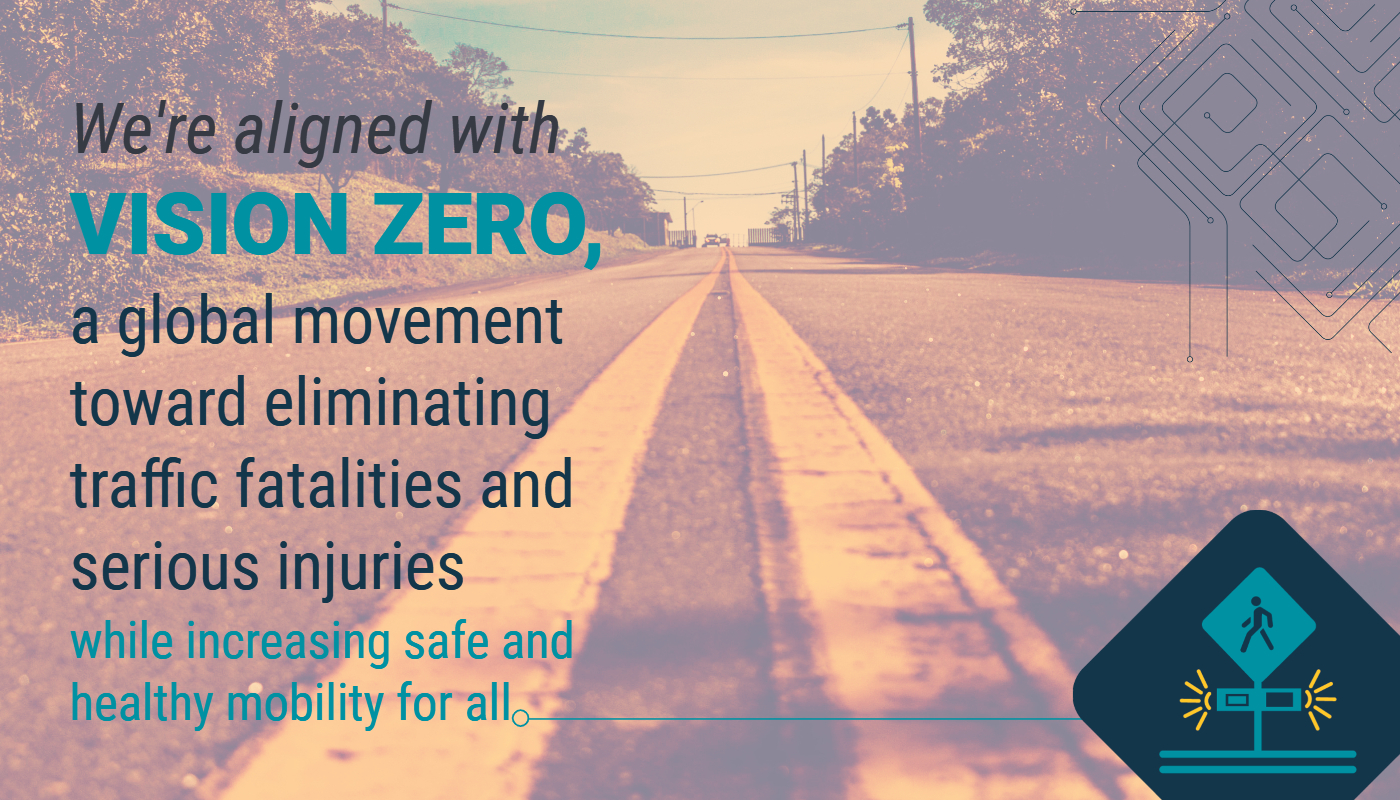 What is Vision Zero?
In the U.S. alone, 40,000 people are killed in traffic crashes each year. In the past, the school of thought said traffic-related deaths are inevitable, and perfecting human behavior is the way to prevent collisions.
Vision Zero a global movement toward eliminating traffic fatalities and serious injuries, while also increasing safe and healthy mobility for everyone. This movement, which began in Sweden, believes traffic deaths are preventable. It recognizes that humans make mistakes, so we must start with system and policy design to improve the roadway environment and lessen the severity of crashes. In North America, cities from Boston to Vancouver and Los Angeles to Orlando have initiatives in place.
"Tens of thousands of men and women are killed or injured in traffic collisions that could, and should, be prevented each year. We know we can do more to prevent this suffering, and we believe that all of us—whether driving, walking, bicycling, using a wheelchair, or riding transit—have a right to safe mobility." – Vision Zero Network
The forms that Vision Zero can take vary from city to city, but the basic factors that contribute to safe mobility are similar. They may include everything from roadway design and speed limit changes to enforcement and behavior changes. Since it is a top-down approach, it also includes policy and technology changes.
How Carmanah helps
We proudly support Vision Zero with our traffic safety solutions. Our Traffic division offers several solutions for cities, including the following:
Rectangular rapid flashing beacons (RRFBs) or circular beacons at sidewalk extensions: Adding sidewalk extensions in selected areas, like at intersections or mid-block crosswalks, can help pedestrians safely cross the street. Add beacons at the crosswalk to further increase visibility.
Rectangular rapid flashing beacons (RRFBs) or circular beacons at roundabouts and traffic circles: Replace intersections with roundabouts to reduce conflict points and avoid traffic signals. Drivers will slow as they approach the roundabout, helping pedestrians navigate across the crosswalks safely. Adding beacons at the crosswalks further increases safety.
Radar speed signs where street narrowing is in place:

 Narrower streets encourage drivers to slow down. Lanes can be replaced with bus lanes, bike lanes, wider sidewalks, or vertical elements like trees. 

Encourage drivers to self-correct by also installing radar speed signs as a reminder to check their speedometer.
Radar speed signs and beacons at speed humps:

 Adding speed humps can slow traffic in areas like 

school zones

. C

ombine speed humps with Carmanah's speed signs and beacons.