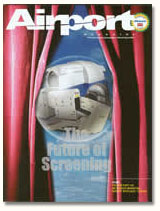 Airport Magazine
March/April 2004
"AT airportech"
Airport Eyes Safety With Solar-Powered Taxiway Lights
California's Truckee Tahoe Airport, seeking to beef up airfield safety, is installing 560 solar-powered light-emitting diode (LED) lights installed to illuminate taxiway edges. The airport is using Carmanah Technologies' Model 601 lights, one of a series of self-contained, sun-powered LED lights that the company offers.
Going with the wireless, solar-fueled lights is expected to save the airport nearly $275,000 over eight years compared to a hard-wired system, according to an economic analysis done by airport officials and Carmanah. Maintenance and electricity savings alone are estimated at $18,000 per year.
The Truckee Tahoe installation will be used as an example by the Federal Aviation Administration (FAA) to assist in developing new lighting guidelines for U.S. general aviation airports, Carmanah said. FAA has been evaluating.
Carmanah's LED technology both at its William J. Hughes Technical Center and in field tests (AM, July/August 2003, p. 54).