Carmanah Technologies Corporation (TSX: CMH) ("the Company" or "Carmanah") today reported its third quarter financial results for the period ended September 30, 2017.  Currency amounts are in U.S. dollars unless otherwise noted.    
All figures below, unless otherwise stated, are for Carmanah's continuing operations and exclude the operating results from the Company's Power business segment.  The planned disposal was announced in a press release dated October 11, 2016.   
In the third quarter of 2017, the Company generated revenues of USD $14.5 million, up 28% from Q3 2016 revenues of USD $11.3 million.  Signals revenues increased 38% to USD $13.8 million, partially attributable to the acquisition of Vega Industries Ltd as described in the press release on August 1, 2017.  Our Offshore Wind, Marine and Traffic verticals had strong year-over-year increases in revenues, while our remaining Signals verticals had year-over-year decreases.  Our Illumination segment revenues decreased 50% to USD $0.7 million when compared to the same period in 2016.  This decline resulted from the transition to the Company's new EverGen product offering.
The net income in the third quarter of 2017 was USD $0.3 million down from USD $1.1 million in the third quarter of 2016.
Carmanah management relies on Adjusted EBITDA[1] (a non-IFRS measure) to gauge financial performance. In the second quarter of 2017, the Company generated Adjusted EBITDA of USD $2.4 million, up 46% from USD $1.7 million in the same period in 2016.   A table reconciling net income and Adjusted EBITDA is included in this release.
"In the third quarter, many important events came to fruition including the sale of our Go Power! business, the acquisition of New Zealand based Vega Industries and the launch of our substantial issuer bid," said John Simmons, CEO. "Amidst these distractions, most of our operating businesses posted attractive revenue gains, maintained attractive product margins and collectively produced solid Adjusted EBITDA.[1]"
Highlights for the quarter are provided below: 

Financial Condition at September 30, 2017 compared to December 31, 2016
• Cash and cash equivalents of USD $32.3 million, up USD $10.4 million from USD $21.9 million
• Working capital of USD $39.7 million, up USD $18.1 million from USD $21.6 million
Complete set of Financial Statements and Management Discussion & Analysis
A complete set of the third quarter ended September 30, 2017 Financial Statements and Management's Discussion & Analysis are available on Carmanah's corporate website.  To view these documents, visit: https://carmanah.com/company/financial-reports.  Both documents are also filed on SEDAR (www.sedar.com).  The financial information included in this release is qualified in its entirety and should be read together with the audited consolidated financial statements for the year ended December 31, 2016, including the notes thereto.      
EBITDA and Adjusted EBITDA[1]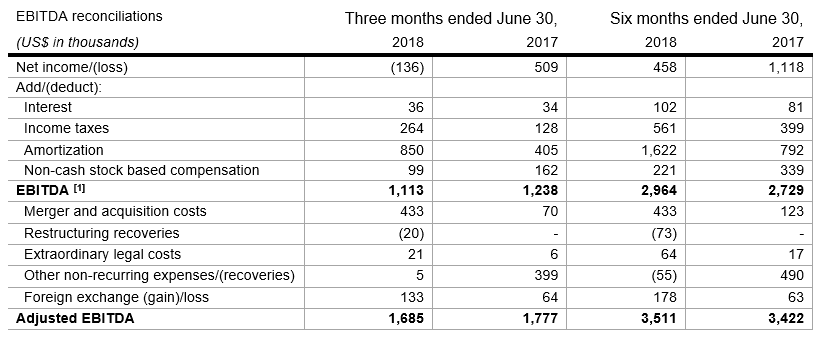 About Carmanah Technologies Corporation
Carmanah designs, develops and distributes a portfolio of products focused on energy optimized LED solutions for infrastructure. Since 1996, we have earned a global reputation for delivering durable, dependable, efficient and cost-effective solutions for industrial applications that perform in some of the world's harshest environments. We manage our business within two reportable segments: Signals and Illumination. The Signals segment serves the Airfield Ground Lighting, Aviation Obstruction, Offshore Wind, Marine, Traffic and Telematics markets.  The Illumination segment provides solar powered LED outdoor lights for municipal and commercial customers.
Contact
Carmanah Technologies Corporation:
Evan Brown, (250) 380-0052
Chief Financial Officer/Corporate Secretary
investors@carmanah.com
This release may contain forward-looking statements. Often, but not always, forward-looking statements can be identified by the use of words such as "expects," "estimates," "could," "will" or variations of such words and phrases. Forward-looking statements or information in this news release relate to, among other things: revenues, and revenue growth, for the fourth quarter and year ended December 31, 2016; order backlogs; gross margins and estimates of EBITDA and Adjusted EBITDA. Forward-looking statements involve known and unknown risks, uncertainties, and other factors which may cause the actual results, performance, or achievements of Carmanah or Sabik to be materially different from any future results, performance, or achievements expressed or implied by the forward-looking statements. Such factors include, but are not limited to: our ability to become a worldwide leader in the marine aids to navigation industry, the potential growth of the off-shore wind safety market or our ability to participate in any growth and other general uncertainties that may impact actual outcomes. These forward-looking statements are based on management's current expectations and beliefs but given the uncertainties, assumptions and risks, readers are cautioned not to place undue reliance on such forward-looking statements or information. Carmanah disclaims any obligation to update, or to publicly announce, any such statements, events or developments except as required by law.
For additional information on these risks and uncertainties, see Carmanah's most recently filed Annual Information Form (AIF) and Annual MD&A, which are available on SEDAR at www.sedar.com and on the Company's website at www.carmanah.com. The risk factors identified in Carmanah's AIF and MD&A are not intended to represent a complete list of factors that could affect Carmanah.