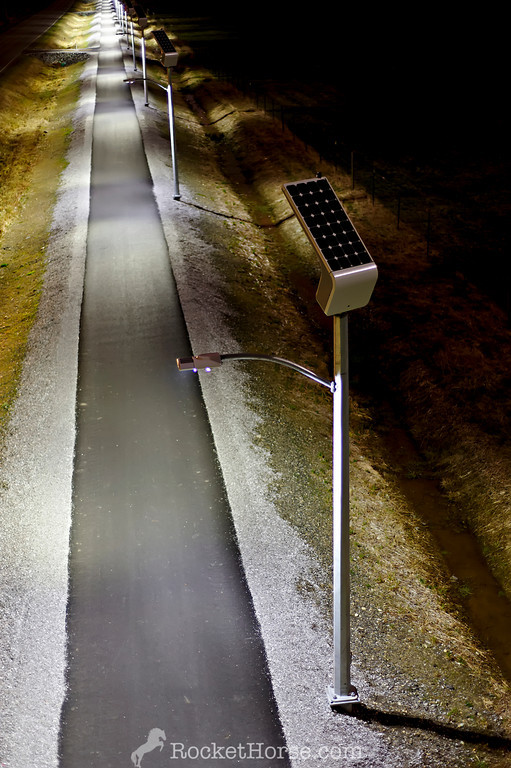 VICTORIA, BRITISH COLUMBIA CANADA (June 16, 2011) Carmanah Technologies Corporation (TSX: CMH) is pleased to announce that the EverGEN 1710 solar LED outdoor light, an industry–recognized advancement in off-grid lighting, has been named Finalist in the International Design Excellence Awards (IDEA)Program. Established in 1980, the IDEA Program recognizes design excellence in a broad range of fields and is considered the preeminent design competition in North America. Past winners include Apple, Mitsubishi and Samsung Corporation.
Developed in a partnership with leading innovation firm frog (formerly frog design), the EverGEN 1710 is a compact integrated solar-powered lighting solution for off-grid illumination. Featuring advanced occupancy sensing (AOS) technology and a sleek, modern design, the EverGEN 1710 is swiftly being recognized within the lighting industry as an advanced off-grid lighting solution.
Ted Lattimore, Carmanah's CEO, stated "We are honoured to be recognized by the IDEA Program. It is a distinction that reaffirms our company's strength in engineering and product design and will accelerate the product's success in the marketplace."
In 2010, the EverGEN 1700-series with AOS received additional recognition in the Illuminating Engineering Society Progress Report for providing a significant advancement to the art and science of lighting.
About Carmanah Technologies Corporation
As one of the most trusted names in solar technology, Carmanah has earned a reputation for delivering strong and effective products for industrial applications worldwide. Industry proven to perform reliably in some of the world's harshest environments, Carmanah solar LED lights and solar power systems provide a durable, dependable and cost effective energy alternative. Carmanah is a publicly traded company, with common shares listed on the Toronto Stock Exchange under the symbol "CMH". For more information, visit www.carmanah.com.
frog works with the world's leading companies, helping them to design, engineer, and bring to market meaningful products and services. With an interdisciplinary team of more than 1,600 designers, strategists, and software engineers, frog delivers connected experiences that span multiple technologies, platforms, and media. frog works across a broad spectrum of industries, including consumer electronics, telecommunications, healthcare, energy, automotive, media, entertainment, education, finance, retail, and fashion. Clients include Disney, GE, HP, Intel, Microsoft, MTV, Qualcomm, Siemens, and many other Fortune 500 brands. Founded in 1969, frog is headquartered in San Francisco, with locations in Amsterdam, Austin, Boston, Chennai, Bangalore, Gurgaon, Johannesburg, Kiev, Milan, Munich, New York, Seattle, Shanghai, and Vinnitsa. frog is a company of the Aricent Group, a global innovation and technology services firm. The Aricent Group is owned by Kohlberg Kravis Roberts & Co., Sequoia Capital, The Family Office, and CPP Investment Board. frog is a Global Growth Company member of the World Economic Forum.
www.frogdesign.com
For further information:
Investors:

Investor Relations: Roland Sartorius

Toll-Free: 1.877.722.8877

Media:

Public Relations: David Davies
This release may contain forward-looking statements. Often, but not always, forward-looking statements can be identified by the use of words such as "expects," "plans," "estimates," "intends," "believes," "could," "might," "will" or variations of such words and phrases. Forward-looking statements involve known and unknown risks, uncertainties, and other factors which may cause the actual results, performance, or achievements of Carmanah to be materially different from any future results, performance, or achievements expressed or implied by the forward-looking statements. These statements are based on management's current expectations and beliefs and are subject to a number of risks and uncertainties. For additional information on these risks and uncertainties, see Carmanah's most recently filed Annual Information Form (AIF) and Annual MD&A, which are available on SEDAR at www.sedar.com and on the Company's website at www.carmanah.com. The risk factors identified in Carmanah's AIF and MD&A are not intended to represent a complete list of factors that could affect Carmanah. Accordingly, readers should not place undue reliance on forward-looking statements. Carmanah does not assume any obligation to update the forward-looking information contained in this press release.