Why Trade Matters
Trade and the Canadian Economy
New and Emerging Markets – Canadian Companies in India
Published by:
Department of Foreign Affairs and International Trade
Government of Canada
February 3, 2004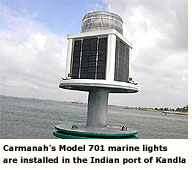 The emergence of new markets in the global economy presents new opportunities for Canadian exporters and investors. Countries such as India, China and Brazil have gained considerable purchasing and financial power and have undertaken substantial economic reforms to open their economies.
To help Canadian companies find new approaches to mutually beneficial engagement with these countries, a portfolio for Minister of State (New and Emerging Markets) has been created.
As part of his mandate to raise Canada's profile in expanding and dynamic markets, and to brand Canada as a 21st-century economy and a business partner of choice, the new Minister of State for New and Emerging Markets, Gar Knutson, was in India from January 24 to 29, 2004, on his first official visit. Mr. Knutson met with government officials and Canadian and Indian business representatives in Delhi and Mumbai, India's two major business centres – to discuss ways to enhance trade between our two countries.
India is Canada's largest trading partner in South Asia. The active promotion of trade and investment by both countries resulted in record trade valued at about $2 billion in 2002.
The catalyst for much of the bilateral trade between Canada and India has been Canada's large and dynamic Indo-Canadian community of over one million people.
With a rapidly expanding middle class, India has the largest emerging consumer market in the world. It is the 11th largest economy in the world and the fourth largest in terms of purchasing power, yet it is only our 18th largest export market.
Canadian exports to India were valued at about $674 million in 2002, and mainly comprised dried vegetables, newsprint, fertilizers, electrical machinery and wood pulp. A number of Canadian companies are now selling quality lumber and finished products such as doors, floors and windows in India. Service sector exports are also expanding in areas such as consulting engineering, education, software development and financial services. There are significant opportunities for Canadian trade and investment in areas of demonstrated Canadian expertise such as high-tech and telecommunications.
In recent years, there have been several high-level visits to India, including the trade mission in April 2002 involving more than 150 representatives of Canadian companies and government organizations and resulting in $25.04 million in deals.
This edition of Stories of the Week provides an update on four Canadian companies who were part of the trade delegation to Delhi and Mumbai two years ago.
CANADIAN SUCCESS STORIES
Solar-Powered Marine Lights
Carmanah Technologies Inc., Victoria, British Columbia
Countries around the world are brighter and safer thanks to products manufactured by Carmanah Technologies Inc. The Victoria-based company designs and produces solar-powered LED (light-emitting diode) lights for marking channels, waterways, moored vessels and docks, as well as highlighting hazards and high-caution areas on roads, highways and railways.
About 85 percent of Carmanah's production is exported to port and roadway authorities, marinas and rail yards, as well as other commercial and private users. The company also serves the needs of the Canadian and United States coast guards and the United Kingdom's Trinity House.
With 12 major ports, 150 minor ports and 12,000 kilometres of coastline and navigable inland waterways, India represents a large market for marine navigation products. During the Canada Trade Mission to the region in 2002, Carmanah signed a contract for the sale of 22 of its Model 701 marine lights to the Port of Kandla, the connecting hub for one million square kilometres of northwestern India. "Buyers there recognize that our short-range marine navigation lights are the best in the world," says Carmanah CEO Art Aylesworth, "and the Model 701 has the lowest cost of acquisition, installation and operation in its class." Like all Carmanah lights, the 701 has a self-contained power source and requires no battery/bulb replacement or other maintenance during its lifespan.
For more information, visit http://www.dfait-maeci.gc.ca/tna-nac/stories87-en.asp or contact Mimi Drabit, Business Development Manager, Carmanah's Marine Division.