MARKHAM, ONTARIO–(Marketwire – Feb. 1, 2012) –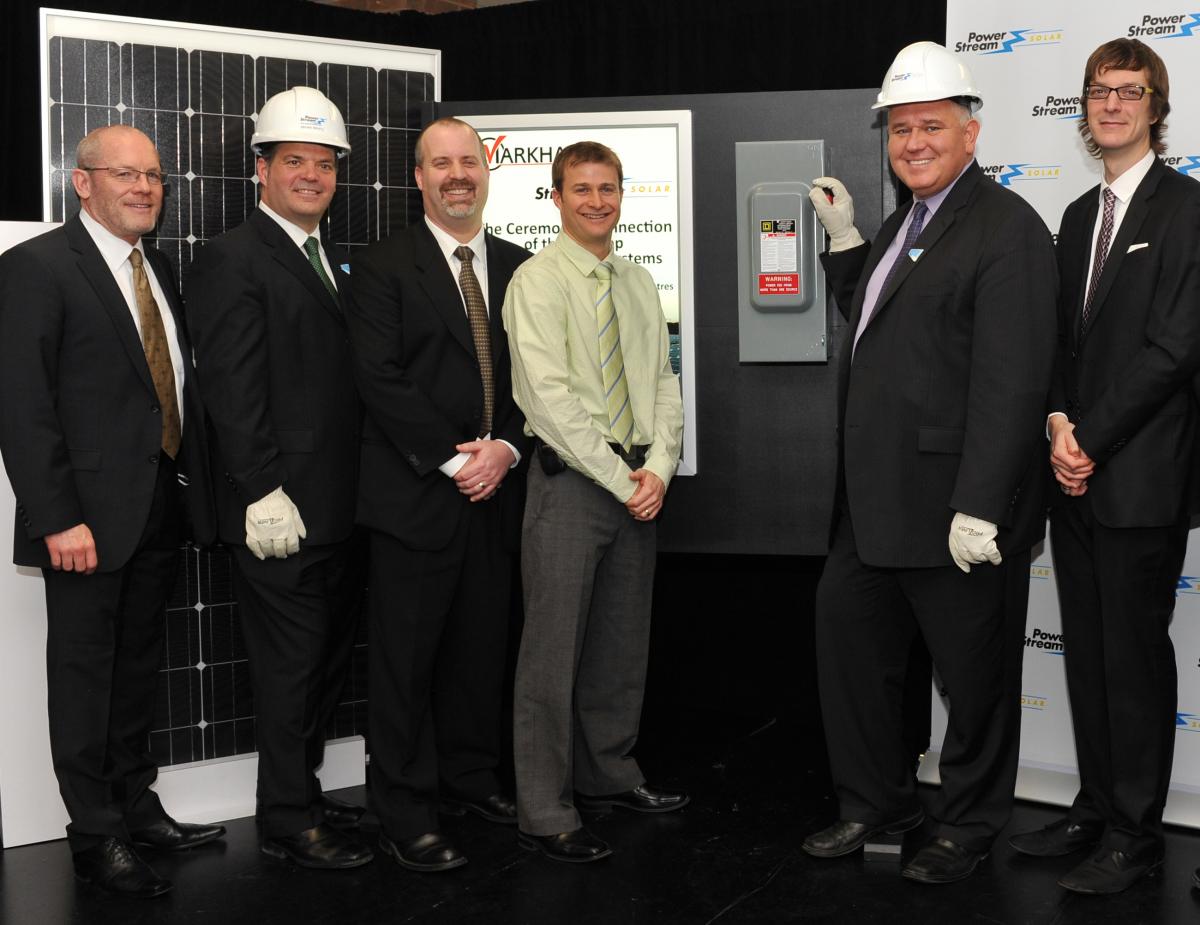 PowerStream Solar's partnership with the Town of Markham in producing clean, renewable energy was officially recognized Wednesday with a ceremonial connection of the rooftop solar generation system at the Thornhill Community Centre, one of two PowerStream Solar generation systems currently installed on buildings owned by Markham.
The ceremony showcased two of the largest rooftop installations in York Region. The Thornhill Community Centre installation is a 350 kilowatts (kW) system, which produces more than 453 megawatt hours (MWh) per year while another system at Markham's Angus Glen Community Centre is a 250 kW system that produces more than 315 MWh per year. Combined, the systems at the two locations, which include a total of 2,754 monocrystalline panels, can produce enough electricity for approximately 84 homes.
Participating in the event's official proceedings were Town of Markham Mayor and PowerStream Board Chair Frank Scarpitti along with, PowerStream's President and CEO, Brian Bentz. Also in attendance were representatives from some of PowerStream Solar's key suppliers including Carmanah Technologies and PCL Constructors.
(Image courtesy of Powerstream Solar)
Carmanah Grid-Tie Team with Brian Bentz, CEO PowerStream
and Frank Scarpitti, Mayor Town of Markham
"The Town of Markham, working in cooperation with PowerStream Solar and its suppliers, is committed to protecting the environment through the development and use of clean sources of energy," explained Mayor Scarpitti. "As a municipal leader in sustainability and conservation we need to leverage our assets, including our building rooftops, to achieve our environmental objectives."
"These two installations are the first of several renewable energy generation systems to be built on top of our buildings. By the end of 2012, we expect to have PowerStream Solar rooftop installations on six of our buildings," continued Mayor Scarpitti in reference to systems planned for Mount Joy Community Centre, Milliken Mills Community Centre, R.J. Clatworthy Arena and Thornlea Pool.
"The business model we have in place for our involvement in renewable generation is consistent with our corporate vision of being a socially responsible company, committed to the environment and sustainable growth," added Bentz, "PowerStream and PowerStream Solar strive to be industry leaders and are continuously expanding the installation of renewable generation systems which provide value to our shareholders and the communities we serve."
PowerStream Solar's business model is currently offering commercial, industrial and institutional building owners the opportunity to lease their under-utilized rooftops for large-scale solar generation installations that are connected to the electricity grid. Participating building owners earn incremental revenue from having an annual guaranteed income through these lease arrangements. They are also able to demonstrate to their customers, communities and other key stakeholders their commitment to being business leaders in contributing to environmental sustainability.
PowerStream Solar is a division of PowerStream Inc., the second largest municipally-owned electricity distribution company in Ontario, providing service to more than 335,000 customers residing or owning a business in communities located immediately north of Toronto and in Central Ontario. The communities served include Alliston, Aurora, Barrie, Beeton, Bradford West Gwillimbury, Markham, Penetanguishene, Richmond Hill, Thornton, Tottenham and Vaughan. PowerStream is an incorporated entity, jointly owned by the City of Barrie, the City of Vaughan and the Town of Markham.
Markham, a municipality of more than 310,000 residents centrally located in the Greater Toronto area, is Canada's most diverse community and home to many of Canada's leading life science and technology businesses. Recipient of a 2010 Canada Award for Excellence – Silver for outstanding achievements in quality, customer service, and a healthy workplace, Markham is renowned for its rich heritage, vibrant neighbourhoods and leadership on the environment and urban design.