Marina operators, yacht clubs, Port Authorities and Coast Guards around the world are beginning to see the light – Carmanah light, that is!
Since the mid-1990's, Carmanah Technologies Inc., based in Victoria, British Columbia, Canada, has been manufacturing completely self-contained, solar-powered, LED (light emitting diode) marine navigation and marking lights. Based on a concept originating from Dr. David Green, company founder, engineer and avid sailor, the combination of solar power and LEDs has launched an extremely popular line of products, and a rapidly growing company. There are currently more than 90,000 Carmanah lights installed in 110 countries around the world!
LED Technology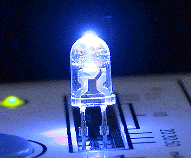 Carmanah lights use LEDs (light emitting diodes) for their light source, which are far more efficient in their power consumption than incandescent bulbs. Incandescent lamps expend much of their energy in the form heat dissipation (85 percent), whereas LEDs waste relatively little energy as heat. Advances in LED technology over the past decade have made them a preferred light source for marine applications. It is interesting to note that the LEDs used in all Carmanah lights should last at least 100,000 hours – or 27 years of continuous operation at 10 hours per day.
All models of Carmanah lights are available in red, green, amber, white and blue LED output colors. The flash patterns available depend on the model of Carmanah light. Some models can be programmed (using an infrared remote) to any of the more than 200 IALA standard flash codes used around the world today.
Used by U.S. and Canadian Coast Guards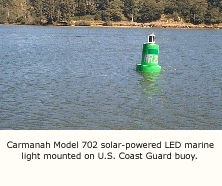 Using intelligent, patented electronics, Carmanah's solar-powered LED lights can operate year round at nearly any location in the world, with zero maintenance required for up to 5 years. It is primarily due to this reputation for durability and reliability that Coast Guards and Port Authorities around the world have been using Carmanah lights for several years now. The U.S. Coast Guard (USCG) has been using Carmanah's solar-powered LED lights since 1999 – and they are currently the only self-contained, solar-powered LED marine navigation lights approved for use in the U.S. federal Aids-to-Navigation System. The Canadian Coast Guard (CCG) also uses Carmanah's lights extensively for navigation lighting on Canada's waterways. CCG officials credit this new technology with enabling the Newfoundland region to establish the first fully lighted aids-to-navigation system in the world.
USCG PAtoNs (Private Aids to Navigation Approved)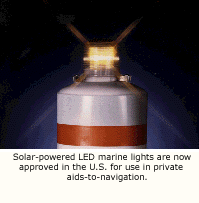 Effective March 8, 2004, a new U.S. Coast Guard regulation took effect officially endorsing the use of LED (light emitting diode) lighting technology for Private Aids-to-Navigation (PAtoN). Previous regulations, written prior to the introduction of LEDs, specified the use of tungsten-incandescent bulbs. By comparison, LEDs burn 20 times longer and use up to 90 percent less electricity. LEDs are also ideal for marine navigation lighting because they are durable, compact, and require no maintenance.
As defined by the USCG, a Private Aid to Navigation (PAtoN) is a buoy, light or day beacon owned and maintained by any individual or organization other than the United States Coast Guard. These interests include private citizens, marina and yacht clubs, municipal and state governments, construction and dredging companies, research and non-profit organizations, beachfront associations, and large industrial concerns. Private aids-to-navigation are designed to allow individuals or organizations to mark privately owned marine obstructions or other similar hazards to navigation, or to assist their own navigation operations.
The new USCG regulation means, for the first time, individuals, corporations, and all levels of government will be allowed to use approved LED-based marine lighting for their marine navigation aids. In the United States, these aids account for more than half of all aids-to-navigation registered.
Carmanah Lights in Haiti and Iraq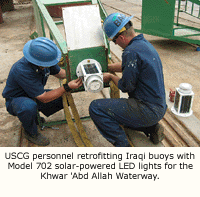 Carmanah recently filled an emergency order from the USCG. Coast Guard. Workers at Carmanah programmed, packaged and shipped 43 lights in just over four hours, and then overnight shipped the order to a South Carolina U.S. Coast Guard depot. The lights were then loaded on cutters in Miami and bolted to buoys in Caribbean waters a few days later, lighting a path to Haitian ports for international aid, military and other marine traffic flowing into the embattled country.
The same lights, dubbed the 700 Series, are in use in more than 100 countries around the world, including Iraq's Khawr Abd Allah Waterway, a key navigation channel leading to the port of Umm Qasr, critical for post-war aid shipments and military traffic into Iraq.
FOR MORE INFORMATION:
To learn about more about Carmanah and its solar-powered LED marine lighting, or to locate a distributor near you, please visit:
http://www.solarmarinelights.com
Contact numbers:
– toll free in North America at 1-877-722-8877 (ext.225)
– outside North America at (250) 380-0052 (ext.225)
Email: info@solarmarinelights.com