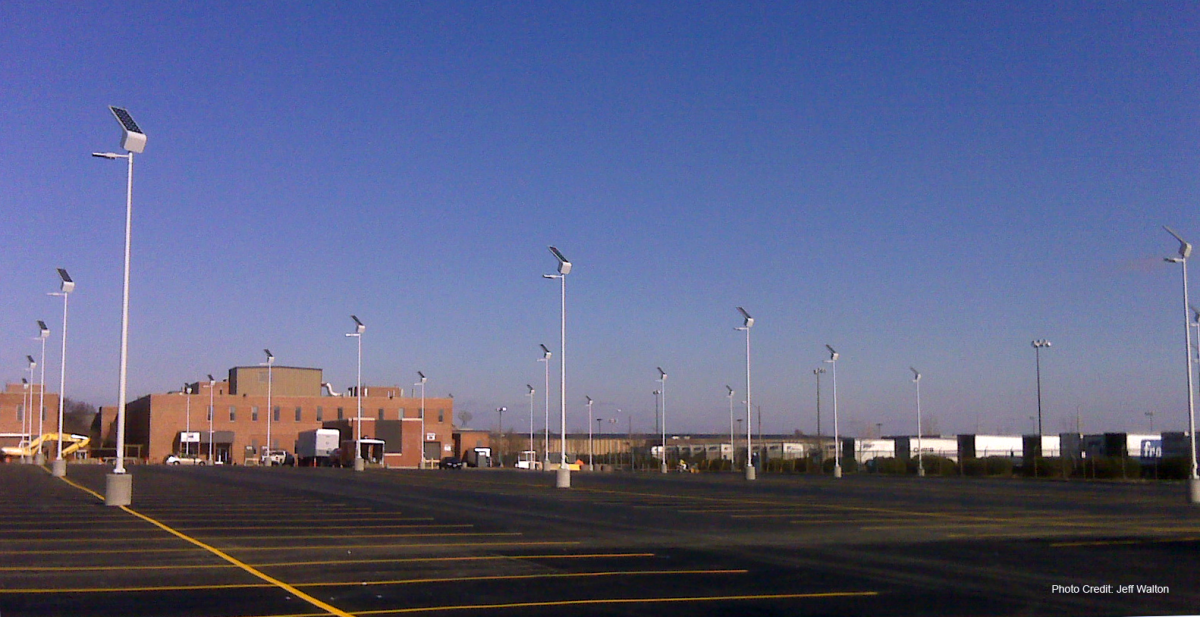 VICTORIA, BRITISH COLUMBIA, CANADA (April 28, 2011) Carmanah Technologies (TSX: CMH) is pleased to announce the sale of EverGEN 1710 solar powered lights for a federal government agency parking lot facility in a deal worth almost $190,000 USD.
This installation was the first parking lot to be illuminated using solar powered lights by this particular government agency. The project used Advanced Occupancy Sensing (AOS) to maximize the light output from each system provided to people when they are in the parking lot and need light. Advanced Occupancy Sensing is a Carmanah patent-pending technology that allows the activation of a network of lights when one light in the network senses motion. Utilizing wireless mesh networking, GPS, and occupancy sensors, Advanced Occupancy Sensing allows a network of EverGEN 1700 solar LED lights to provide synchronized activation when one of the lights within the network senses motion. Incorporating Advanced Occupancy Sensing can significantly increase the light output of an EverGEN 1700 system and reduce the overall number of systems required to light a project.
Ted Lattimore, Carmanah's CEO, commented on the business advantage that using EverGEN 1710 systems with Advanced Occupancy Sensing; "Utilizing AOS makes perfect sense. By maximizing the amount of light output each solar lighting system can deliver when on, the customer is able to reduce the overall number of systems required to light, in this case, the parking lot. This reduction in total required system saves the customer money both on materials and installation costs. It just makes for a good business decision."
Carmanah lighting agent, St. Louis Lighting was responsible for specifying the EverGEN solar lights for this particular project.
###
About Carmanah Technologies Corporation
As one of the most trusted names in solar technology, Carmanah has earned a reputation for delivering strong and effective products for industrial applications worldwide. Industry proven to perform reliably in some of the world's harshest environments, Carmanah solar LED lights and solar power systems provide a durable, dependable and cost effective energy alternative. Carmanah is a publicly traded company, with common shares listed on the Toronto Stock Exchange under the symbol "CMH". For more information, visit www.carmanah.com.
For further information:
Investors:

Investor Relations: Roland Sartorius

Toll-Free:1.877.722.8877

Media:

Public Relations: David Davies

Tel:+1.250.382.4332
This release may contain forward-looking statements. Often, but not always, forward-looking statements can be identified by the use of words such as "expects," "plans," "estimates," "intends," "believes," "could," "might," "will" or variations of such words and phrases. Forward-looking statements involve known and unknown risks, uncertainties, and other factors which may cause the actual results, performance, or achievements of Carmanah to be materially different from any future results, performance, or achievements expressed or implied by the forward-looking statements. These statements are based on management's current expectations and beliefs and are subject to a number of risks and uncertainties. For additional information on these risks and uncertainties, see Carmanah's most recently filed Annual Information Form (AIF) and Annual MD&A, which are available on SEDAR at www.sedar.com and on the Company's website at www.carmanah.com. The risk factors identified in Carmanah's AIF and MD&A are not intended to represent a complete list of factors that could affect Carmanah. Accordingly, readers should not place undue reliance on forward-looking statements. Carmanah does not assume any obligation to update the forward-looking information contained in this press release.