Every year in the US, around 21,000 children are injured in school zones. Studies also show that two-thirds of drivers exceed posted school zone speed limits. Ensuring drivers obey school zone speed limits is crucial to lower pedestrian injuries and fatalities. Even a 5 to 9 mph reduction in speed can dramatically reduce the risk of death or serious injury. As this graphic shows, 90% of pedestrians hit by a vehicle traveling at 20 mph will survive, while only 10% will survive if hit by a vehicle traveling at 40 mph.
In this video series, we'll explore proven technology shown to increase safety in school zones, and how it can be effectively deployed on roadways.
Here in Part 1, we will focus on solutions to help drivers quickly identify when they enter a school zone and when school zone speed limits are in effect, and how to draw attention to all types school area signage.
Keep in mind this is a general guideline only: your state and/or local jurisdiction may have different school zone design and sign placement standards to meet their unique safety concerns.
Depending on the road's posted speed limit before the school zone, install an S1-1 School Area Sign between 200 and 600 feet or further from the school grounds. These signs warn vehicle drivers that they are approaching a school area that may include school buildings and grounds, pedestrian crossings, and other activity adjacent to the road.
If a school zone speed limit is established, install a school speed limit sign assembly a minimum of 200 feet away from the school grounds or as close to the point the reduced speed limit begins. The most effective treatment is to pair an S5-1 school zone speed limit when flashing sign with flashing LED beacons.
Beacons scheduled to flash during the hours the speed limit is in effect keep drivers' eyes on the road ahead, telling them exactly when they need to adjust their speed—no guesswork required.
They're also effective at lowering traffic speeds. A Washington DOT study found that school zone flashing beacons can reduce vehicle speeds by 5 to 7 mph.
Another study found that 82% of drivers correctly identified a school zone sign when it had beacons that were flashing, compared to just 52% when no beacons were present.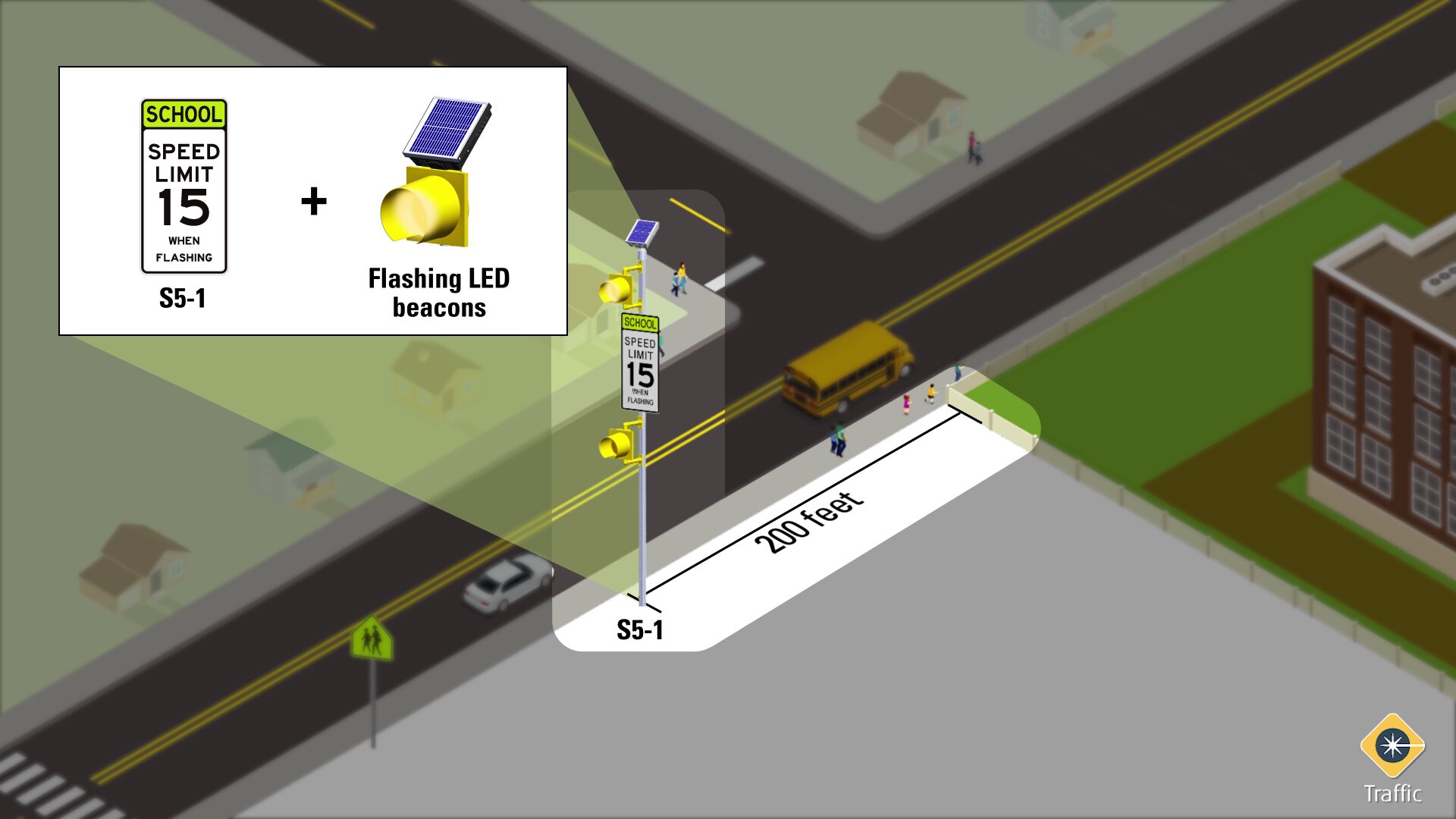 Beacons can easily be added to existing school zone sign poles or installed as part of a new school zone sign installation. The MUTCD advises 1 or more beacons vertically aligned on the pole—but horizontal mounting is also permitted. The minimum circular beacon size in 8 inches in diameter, and if two beacons are present, an alternating flash pattern is to be used.
These beacons can be powered by solar, which can reduce installation time, costs, and traffic disruption.
The beacon flash is managed by scheduling software, which can be pre-programmed with operating hours for 500 days in advance for each individual school zone.
These beacons are particularly effective on arterial and multi-lane roads where drivers might otherwise miss school zone signs due to traffic conditions, traffic speeds, and other competing signage.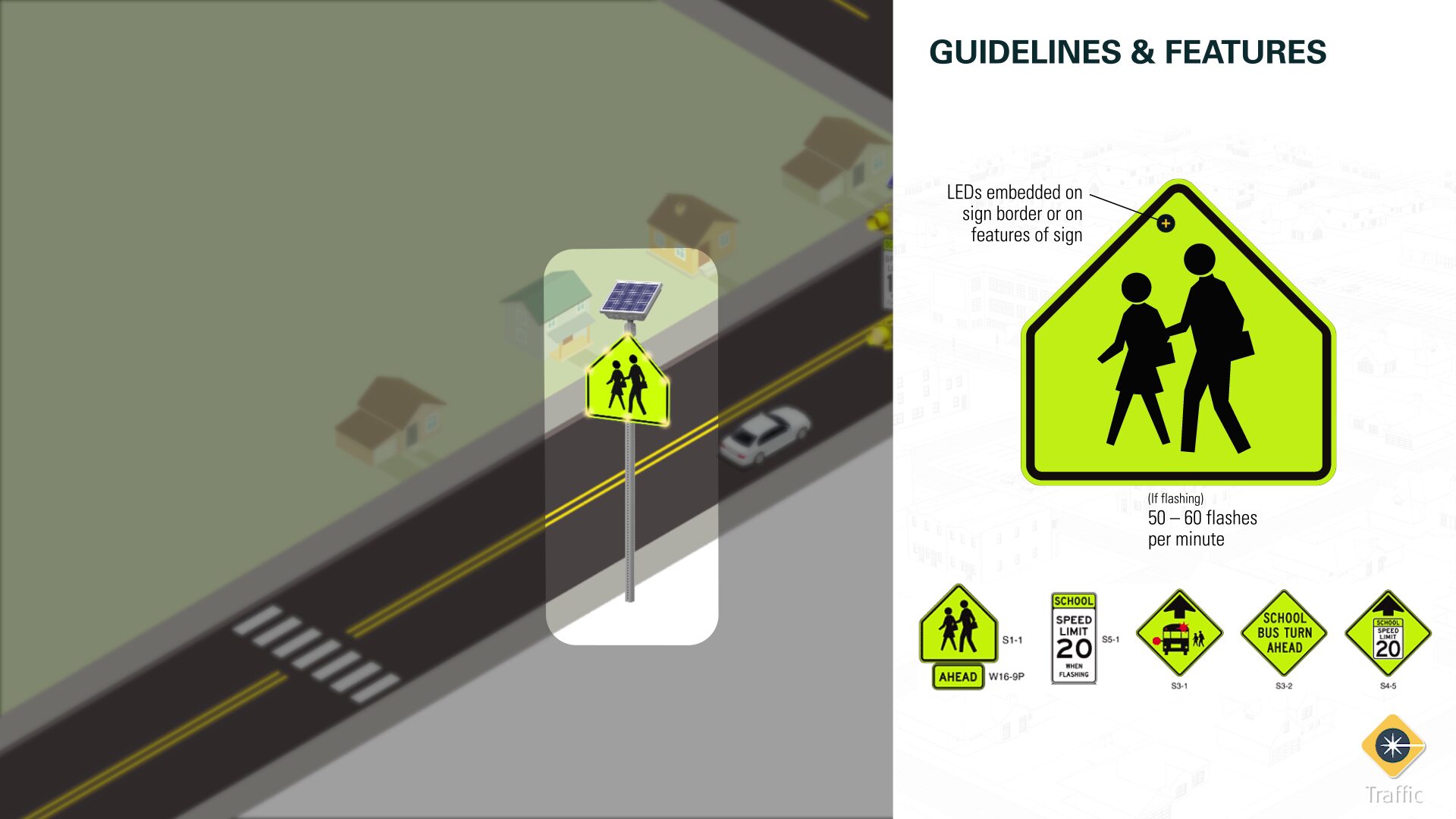 In combination with flashing beacons, embedded LEDs in sign faces can enhance visibility of school area signs.
These LED lights are commonly found on, but are not limited to, the sign border. If flashing, the LEDs must do it simultaneously between 50 and 60 times per minute. As drivers enter the school zone, the effect is to brighten the message and improve the visibility and recognition of the signs, especially under low-light conditions.
These school zone treatments are invaluable for increasing driver awareness of school zone speed limits and reducing vehicle speeds—keeping children and other pedestrians safe.
Learn more
Check out the rest of this video series to learn about other possible school zone treatments.
Explore school zone safety treatments