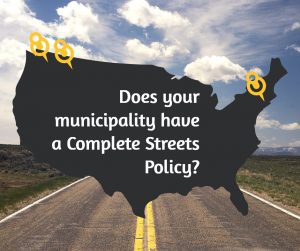 Every year since 2006, the National Complete Streets Coalition, which is a Smart Growth America program, releases The Best Complete Streets Policies report. It evaluates policies across all 50 states, Puerto Rico, and the District of Columbia that provide a formal commitment to safe, convenient streets for every user, no matter who they are or how they choose to travel. Policies receive a score out of 100 that includes everything from the vision and design of the policy to the inclusion of all governing agencies and the steps toward implementation.
Between 2005 and 2014 in the US, the report indicates, more than 46,000 people were killed by cars while walking, and more than 7,000 while biking. "Communities want to make it safer and easier for people to bike, walk, wheelchair roll, and take transit as well as drive to where they need to go," the report says, and many communities are using a Complete Streets policy to do this.
Municipalities adopted a total of 222 new Complete Streets policies in 2016, almost double the number adopted in 2015 when 114 new policies came into effect. The new policies in 2016 bring the nationwide total to 1,232. The 2016 report included three perfect scores of 100: Brockton, Massachusetts, Missoula, Montana, and Wenatchee, Washington, all earned this accolade for their newly adopted policies.
"Complete Streets redefines what a transportation network looks like, which goals a transportation agency is going to meet, and how a community prioritizes its transportation spending," according to the report. "It breaks down the traditional separation in planning for different modes of travel, and emphasizes context-sensitive, multimodal project planning, design, and implementation."
Is your community planning to adopt a complete streets policy to help improve walkability and other modes of transportation, but you don't know if it's feasible?
Here are 3 takeaways from the report to encourage your municipality to get started.
Municipality size doesn't matter. 955 municipalities have policies in place: 30% are small suburbs, and about 25% are towns, proving that even smaller regions can create such a plan. (Meanwhile, 14 of the 15 most populous US cities have a policy in place.)
There are many ways to get a plan in place. Over half of the 1,232 policies nationwide were adopted via resolutions, while about one-quarter were policies from an elected board. Some come from design standards, legislation, and other sources.
Incentives help, but aren't required. Live in Massachusetts or Washington State? They have incentive programs to encourage policy development. 30 states in total have 10 or more policies at all levels of government.
Learn more about Complete Streets policies and see example policy excerpts in the full report.
What's next?
For 2017, the National Complete Streets Coalition plans to introduce a new scoring rubric, which will weigh equity and diversity more heavily, along with implementation. This is being implemented because a large number of low-income areas, which are inherently less walkable for pedestrians, are not always accessing the economic and safety benefits of a Complete Streets program at the same rate as other communities.
Adding crosswalks—and improving crosswalk safety—is one low-cost strategy for starting your complete streets policy. Of the annual fatalities in the US, 70–75% occur at mid-block locations, where speeds are faster and driver yield rates lower than at intersections.
Click here to learn how our mid-block crosswalk solutions can make your community more walkable.
Learn more about our crosswalk solutions