How Bike to Work Week brings together staff, the community, and our traffic safety goals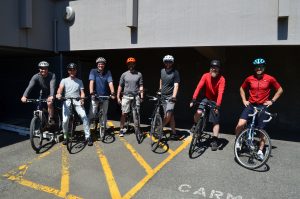 Did you know that Bike to Work Week started in the city of Victoria, British Columbia—home to Carmanah's head office—in 1995? About 500 participants promoted commuter cycling that year, and today, communities across the province take part, with participants numbering 50,300 in 2018.
In Victoria, the Greater Victoria Bike to Work Society continues to organize this free community event every spring. Celebration Stations along key bike routes offer food, beverages, bike check-ups, and prize draws for participants. Each year, the Victoria region includes more than 6,000 participants—from novices to regular cycling commuters—who embrace the cycling lifestyle in the city for the week, and hopefully beyond.
Since we advocate for multimodal transportation, walkability, and Safe Routes initiatives when it comes to our Traffic safety solutions, it's important that we practice what we preach, and our participation in Bike to Work Week is a great example of how we do this.
Watch our video to learn more about Bike to Work Week at Carmanah.
Recent participation
Carmanah takes part in this event every year under our team name, the Carmaniacs. This year, the 25th annual event was held May 27–31, 2019. Here's what our team achieved:
Participants: 25 Carmanah staff members from all departments of the company
Total trips: 89
Total kilometres: 574
Types of transportation logged: biking, walking, paddleboarding, busing, carpooling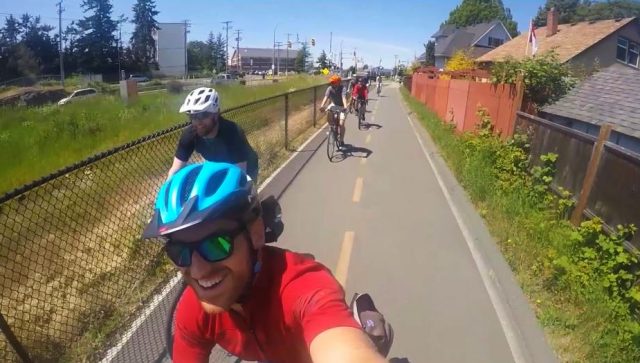 Beyond the competition, we even did our part for the environment, something that we as a company care about as part of our triple bottom line strategy. By choosing to ride our bikes instead of driving, our Bike to Work team kept 124 kg of greenhouse gases out of the atmosphere. We are proud to report that about 26% of staff commute to work regularly using active transportation like biking, walking, or busing—and we even have a paddleboarder!
We celebrate the success of our team with a staff-wide BBQ, cycling-related competitions, and prizes for participants to encourage active transportation commutes to continue throughout the year. Recently, we have also started a Bike to Barn challenge on Fridays. Staff bike to work in the morning, bike to a local café to pick up sandwiches and wraps at lunchtime, and enjoy them together back at the office—building morale as well as glute muscles!

See the bigger picture
Read more about how Bike to Work Week fits into our green initiatives and our triple bottom line strategy.
Read our Corporate Social Responsibility Report