Add easy-to-install traffic safety beacons, signs, and street lighting
Assessing lighting on routes to your parks or other routes throughout your city is an easy way to identify potential challenges in finding safe routes for all community members. The Safe Routes to School National Partnership, a national non-profit organization, has been a tireless advocate for advancing safe walking and bicycling to and from schools. Equitable transportation for all races, income levels, and abilities—whether in urban, suburban, or rural communities—has been Safe Routes' goal since 2005.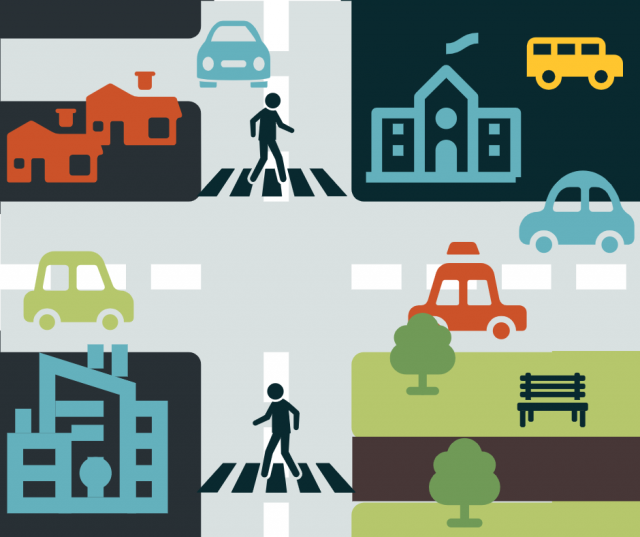 Safe Routes also has a Safe Routes to Parks initiative founded on the same principles. People will go to parks when they feel safe and comfortable doing so, and this kind of positive park use is vital to a healthy park. Meanwhile, when people aren't using parks for positive reasons, others may use them for negative reasons. Cities may limit their funding and attention for parks that aren't being used as intended.
Safe Routes is often spoken about in relation to traffic beacons and signs, but it is also relevant to examine in terms of street and park lighting. Ensuring adequate lighting on the route to the park as well as in the park itself are key aspects for helping encourage positive park use, improving accessibility, and maintaining a sense of safety. Conducting a walk audit can help assess existing conditions and find ways to improve them.
What is a walk audit?
A walk audit starts with a simple concept: go for a walk and note what you see on the way to the park, including lighting or lack thereof. Whether you are on city council, work for a city department and see room for improvement, or are a community advocate, you can instigate a walk audit.
How to improve your routes
Once you've done your walk audit, what's next? One tactic is to start with the basics: sidewalks and lighting. Every year, more than 5,000 pedestrians and bicyclists die on US roads, and this often doesn't happen equitably across all neighborhoods: only 49% of low-income neighborhoods have sidewalks and only 51% have street lights. Adding these basic types of infrastructure equitably to all communities is a great place to start when making safer routes to school, parks, work, shopping areas, and much more.
Here are some other types of traffic safety infrastructure to add to your safety initiatives.
Pathway and park lighting: Adding lighting on park pathways and commuter trails helps increase the sense of safety when walking to work, school, or shopping areas.
Street lighting: Whether the street has adequate sidewalks or not, visibility can be improved with proper lighting.
Parking lot lighting: For those who aren't making the journey home on foot, the route to the car can still be safer with parking lot lighting that helps improve visibility for those on route to their vehicles as well as for other drivers navigating through the lot.
Crosswalk beacons: These warning lights can help draw attention to crosswalks, especially those found mid-block.
School zone beacons: School zone flashing beacons inform drivers of upcoming school zones, helping slow traffic to allow children to get to and from school safely when walking or biking.
Radar speed signs: Perfect for blind corners, high-traffic residential areas, or anywhere you need to slow down traffic quickly, radar speed signs help drivers self-correct.
24-hour flashing beacons: For intersections, blind corners, or anywhere that requires extra focus on the sign, 24-hour flashing beacons can help draw driver attention where it's needed in the moment.
LED enhanced signs: When used as an alternative to or in combination with flashing beacons, LED enhanced signs can be helpful in challenging locations where compliance is low or accidents have occurred in the past.
Combine these safety devices for an even more robust solution at particularly challenging locations.
Learn more
Improving walkability in your community with a well-planned safety update can boost the local economy, reduce traffic congestion, and encourage community participation. Learn more about the benefits of adding overhead crosswalk lighting as well as traffic beacons.