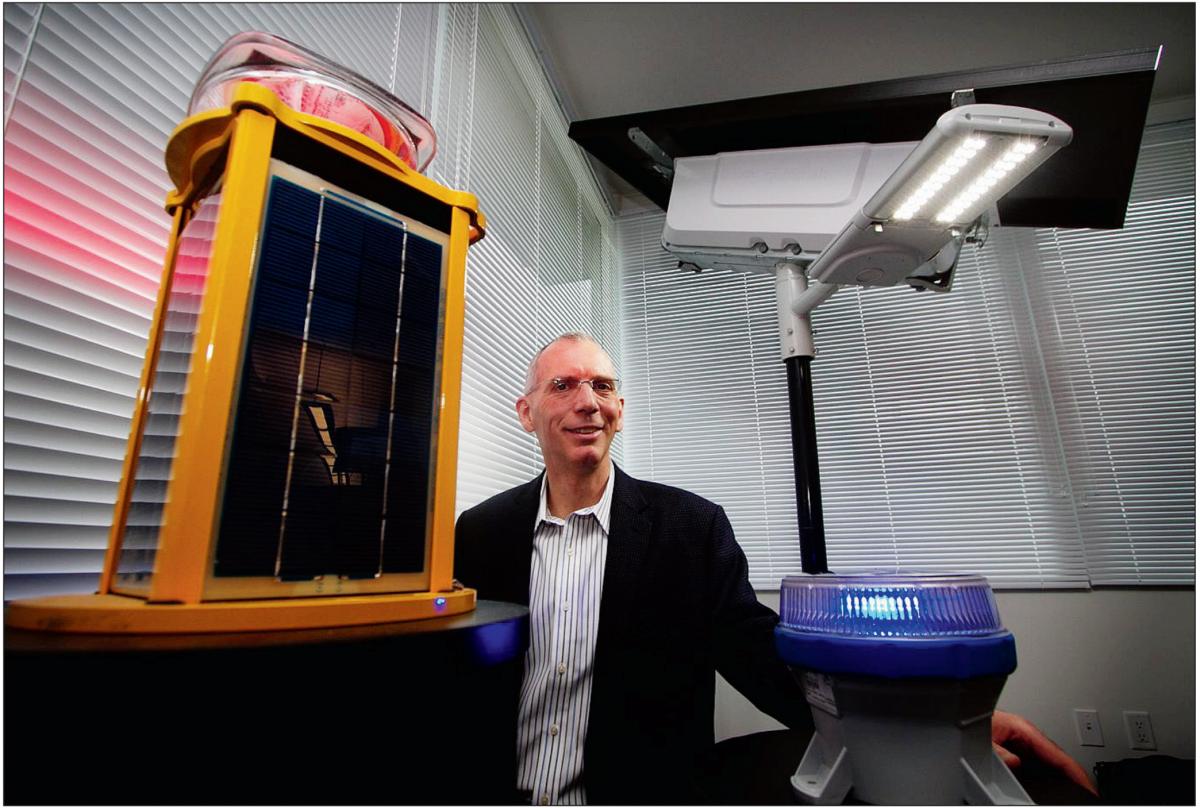 Carmanah CEO Bruce Cousins is surrounded by some of the company's key products, including an aviation signal light, left, a lower-cost outdoor light, above his shoulder, and an aviation light, on the table.
Photograph by: Darren Stone, Times Colonist, Times Colonist
The new chief executive of Carmanah Technologies said the solar lighting and power company will aggressively expand markets in emerging countries.
Bruce Cousins said Latin America, Africa and Asia will be key targets for Carmanah's energy-efficient outdoor lighting products and signals as the Victoriabased company tries to boost flat sales and a languishing share price in an increasingly competitive sector.
"Many of these markets have unstable, unreliable grids and [Carmanah] has some wonderful solutions," said Cousins, a former CFO with Xantrex and Ballard Power Systems, who took over the top post from Ted Lattimore last month.
He said Carmanah sells about 80 per cent of its products within North America, but with "economic headwinds" blowing hard at home, it is crucial to develop new partnerships and sales channels in places such as Mexico, Argentina and further abroad.
But that's easier said than done, Cousins said. Connecting with local governments and partners to access those markets and competitively take part in tendering processes will take time, feet on the ground and investment.
Cousins plans to continue that process by meeting with manufacturing partners and distributors during an extended roadtrip over the next several weeks.
Carmanah has already started rolling out more cost-effective products to hit those markets. The company's first series of EverGen LED outdoor lighting systems sells for between $8,000 and $10,000 US per unit. The smaller series starts at about $1,000 US and some units have already been sold and installed along roads in Mexico City and a public park in Las Condes, Argentina.
Cousins said manufacturing of the lights is done at Flextronics in Houston, Texas, while some internal circuits are being made in a plant in Mexico.
Carmanah's new lower-cost outdoor lights address the need in markets with developing infrastructure, where standalone solar lighting can offer "a cost-effective alternative to traditional systems.
"We expect it to be wellreceived by governments, private industry and contractors in this market," he said.
Cousins takes over Carmanah after some extreme streamlining from Lattimore, a former Vodafone executive who arrived in October 2007. The company had grown from $4 million a year in revenues to $60 million in a hurry, but had hit a wall with rising costs spread over several products and divisions, despite a surging market for solar-based products.
Lattimore initiated a 100-day plan to assess the business and dropped a hammer the following June, announcing more than 100 cuts to the workforce of 260, shutting a plant in Saanich and contracting out manufacturing operations and selling off the LED sign unit.
He formed two divisions – lighting, with Carmanah's signature signals and the fast-growing outdoor systems; and solar power, with grid tie-ins and panels and other products for the recreational sector.
The company is down to about 70 staff today and continues to operate debtfree.
The signals business – marine and aviation lighting – remains the company's "bread and butter" for revenue, said Cousins. The Canadian and U.S. coast guards and military and air forces all use them, but "we have to look further to Asia and Europe," he said.
Solar panels and gridties, which account for about 25 per cent of revenues at Carmanah, are a high-cost part of the business and sales remain spotty. The panels and gridties, he said, are largely "subsidy based" and usually installed in conjuction with government grants.
Ontario is proving the most profitable market and Carmanah will continue to "stick to our knitting there," Cousins said.
Carmanah announced this week a $1.4-million deal with a commercial refrigeration service provider in Ontario for a 250-kilowatt solar rooftop photovoltaic system.
The solar array generates about 300,000 kilowatt hours of clean electricity annually – an amount equivalent to that consumed by 25 typical Canadian households.
Carmanah is one of the largest engineering, procurement and construction contractors of rooftop photovoltaic facilities in Canada.
Last month, Carmanah had flat revenue in its third quarter. The settlement of a lawsuit with an Isreali lighting company helped it to a $400,000 bump in profit compared to $100,000 in the same quarter a year ago.
Carmanah's share price, however, has slipped significantly as stock watchers wait for some kind of a breakout by the company.
Carmanah shares are lingering near the bottom of a 52-week low at 40 cents, unchanged Friday on the Toronto Stock Exchange.
Cousins is considered a strong candidate to shore up the value. After 13 years in various divisions with Johnson & Johnson, the Toronto native joined three founders in the startup phase of Aspreva Pharmaceuitcals in Victoria, where he helped to engineer a $700-million IPO and the eventual sale of the company for $915 million in cash – a 24 per cent premium for sharehodlers and one of the biggest sales in Canadian bio-science history.
"Carmanah is a show-me stock right now," said Cousins. "We have to put a few [deals] up that are meaningful. If we do, our investors will warm.
"I belive we are significantly undervalued. The six analysts [that cover us] believe we are undervalued. If we can close some key tenders in places like Mexico, we can get ahead of the street."