Quickly configure and solar-size an RRFB product online
Over the last year, we've streamlined our customers' experience with our new custom build tool. Released in 2021 for LED enhanced stop and warning signs and for our SpeedCheck® radar speed sign series, this online application allows you to quickly build a custom product, solar-size it and receive a customized data sheet with your configuration—all in just a few minutes. Then, you can save your configuration for later or send it to us directly for a quote, helping you get what you need faster.
We're excited to announce our latest build tool, this time for one of our most popular crosswalk products: the rectangular rapid flashing beacon (RRFB). We're one of the first RRFB manufacturers to offer this unique build configuration tool complete with a solar-sizing function to ensure the selected solar-powered RRFB will operate reliably for years to come. Now, you can quickly customize an RRFB system and get a custom data sheet.

Try out our new build tool and configure a custom RRFB now.
How the build tool works
We've simplified the product configuration process into 5 simple steps that only take a few minutes to complete.
Step 1. Configure light bars and pushbutton
Select how many light bars you need and their housing color. Then, select your pushbutton type and its housing color.
Step 2. Configure power options
Choose whether you'd like a solar-powered or an AC-powered RRFB. If solar, select the estimated number of pedestrian activations per day the crossing will receive.
Step 3. Solar-size it
Enter your site location. Our solar sizing tool evaluates that area's incoming solar insolation and determines the most sustainable model for your project (not required for AC products).
Step 4. Configure mounting options
Choose whether you'd like an integrated solar engine or separate panel and battery cabinet. Then, pick your preferred pole mount and housing color.
Step 5. Enter project information
Fill in your name, email and project title to complete your build and download a customized data sheet of your configuration.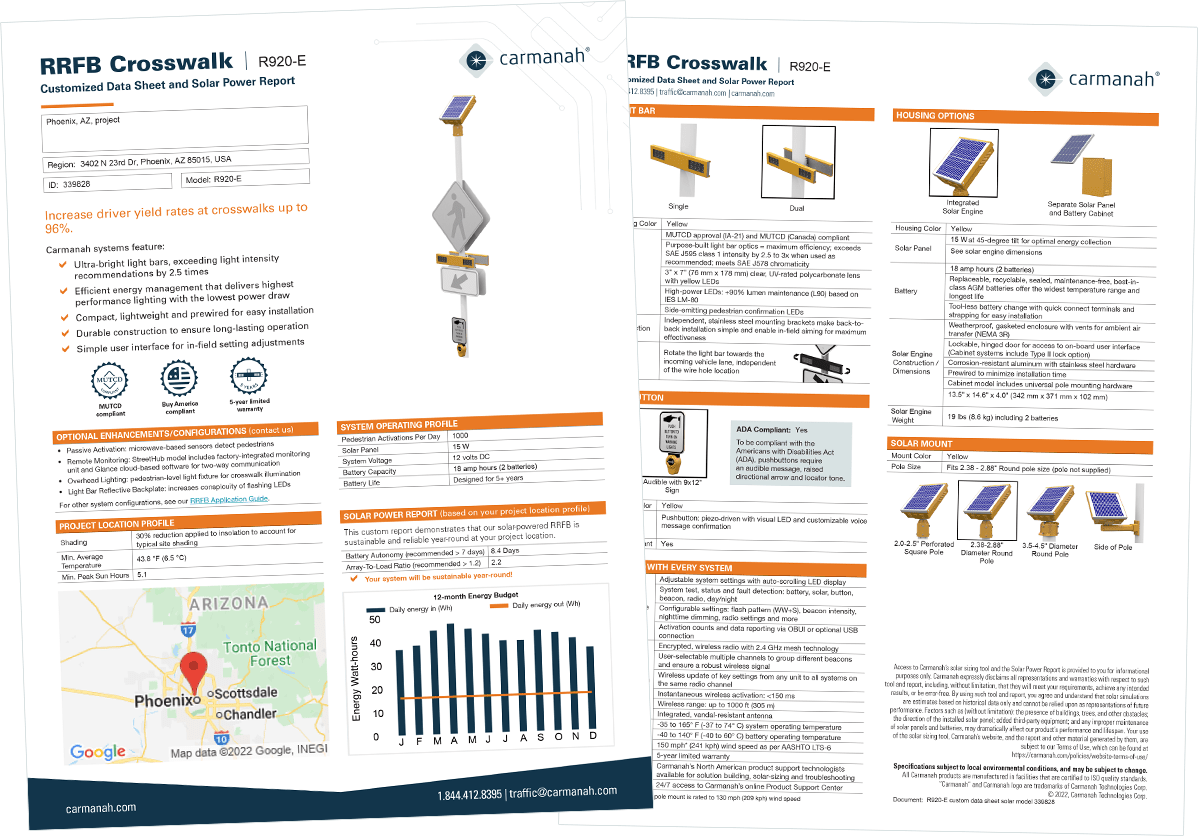 A custom data sheet showing the recommended R920-E model.
Once you've completed the build tool, it will automatically generate a customized data sheet. This document details all the system specifications for your configuration: light bar optics and housing color, solar panel size and voltage, battery capacity, weights and dimensions for the system housing and much more. It also features a condensed solar power report, including estimated battery autonomy and a 12-month energy budget, showing proof our recommended model will operate sustainably in your location for years to come.
From here, you can save your custom configuration for later or send it right to us for an official quote.
Carmanah's RRFB crosswalk systems are highly effective in focusing driver attention and improving compliance
Over the last 10+ years and with thousands of installations across North America, we're one of the leading RRFB manufacturers in the transportation industry. Our RRFB systems stand out from the rest with their high brightness, quick and easy installation, and long-lasting, reliable operation. Thanks to efficient energy management delivering the highest performance lighting with the lowest power draw, our RRFBs are 2.5 to 3x brighter than industry recommendations. They are compact, lightweight and prewired for a simple, streamlined installation process. Our straightforward user interface also allows for quick, in-field setting adjustments. Finally, our systems are built tough: their durable, sturdy construction helps them resist extreme weather and vandalism. All of our products are designed to the highest industry standards and backed by an expert support team. Every RRFB comes with a 5-year limited warranty and, for every solar-powered model, we include a location-specific Solar Power Report to prove sustainability over a 12-month period.
>> Learn more about rectangular rapid flashing beacons