Carmanah's Solar LED Lighting Group has received an order for several units of its R247C 24-hour solar beacons from the California Department of Transportation (Caltrans). These solar-powered, LED-illuminated units will be installed as part of a field trial for a Highway Advisory Radio (HAR) System.
As part of its HAR system, Caltrans was looking for a self-contained flashing beacon that could be integrated with a long-range Contact Closure Radio. Carmanah's compact solar flashers are designed to easily integrate with third party traffic control devices. For this application, Carmanah's solar beacons are integrated with an Encom Wireless Data Solutions contact closure radio.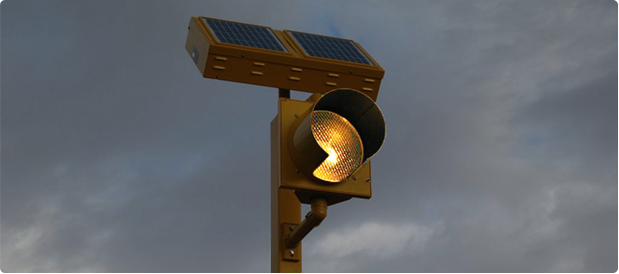 What is Highway Advisory Radio? *
Highway advisory radio (HAR) is one of the oldest travelor information technologies. It was initially used on the George Washington Bridge in New York City in 1940. HAR broadcasts are used to inform drivers of:
detours
operating restrictions such as requirements to put on snow tires or chains
warnings about hazards such as forest fires, floods, mudslides or highway closures
traffic conditions along short segments of specific routes, especially work zones
directions to tourist attractions
parking availability
public transit alternatives
notices of events
A HAR broadcast range usually falls within one to six miles, and nearly all HAR systems use the AM band. According to federal regulations, HAR broadcasts may not contain entertainment or commercial messages. They are often used in conjunction with variable message signs, which will tell drivers where or when to tune to HAR.
About the R247 Series Flashing Beacons
Carmanah's R247 Series flashing beacons are the most advanced 24-hour solar LED flashers available on the market. Entirely self-contained, they incorporate industry standard LED traffic signal heads and are compact and light enough for installation on standard signposts. They have also been engineered to operate for up to five years without any scheduled maintenance.
Unlike any other beacon available, Carmanah's solar LED beacons feature the Company's core MICROSOURCE® Energy Management System (EMS), an advanced technology that ensures maximum system reliability while minimizing system size requirements. MICROSOURCE® EMS is a patented intelligence that enables Carmanah's solar LED beacons to automatically adjust to prevailing solar conditions, ensuring continuous, dependable operation year round under all types of seasonal and local weather conditions. MICROSOURCE® EMS was developed and refined over a period of eight years and is now field-proven in thousands of installations in more than 110 countries.