Carmanah has been awarded an open contract with the Illinois Department of Transportation for its unique R247C solar-powered LED flashing roadway beacons. These units will be installed on existing stop and warning signs along state roads throughout the State of Illinois. Installations will be performed by Carmanah's Authorized Distributor for Illinois, Brown Traffic Products Inc.
Flashing 24 hours per day, 365 days per year, Carmanah's R247C solar LED beacons enhance visibility of warning and stop signs and draws attention to hazards and road obstructions. They are especially effective in poor weather and heavy traffic areas where accidents are more common.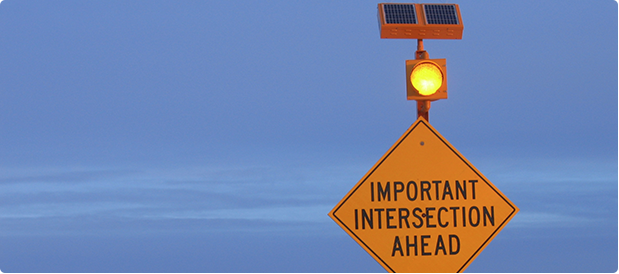 Automatically adjusting to prevailing solar conditions, R247C beacons are designed to operate reliably in all climates and weather conditions throughout most of North America with no scheduled maintenance for up to five years. Carmanah's solar LED technology and patented MICROSOURCE™ Energy Management System (EMS), has been field-proven to perform under Illinois all climate conditions, with several solar-powered crosswalk beacons already installed throughout the state.
Another advantage of Carmanah's R247C solar LED beacons is their ease of installation. These units can be mounted in literally minutes onto existing 2″ square or 2 3/8″ round signposts with no trenching or cabling. Carmanah's R247C beacons are extremely compact and require no external control cabinets. They incorporate 12″ ITE LED signal heads, making them the only MUTCD Compliant Flashing Beacon on the market.
About Carmanah Technologies Corporation
Carmanah is an award-winning manufacturer specializing in energy-efficient technologies that fundamentally change the way its customers operate. The Company is currently focused on three technology groups: solar-powered LED lighting, solar power systems & equipment and LED-illuminated signage.
Carmanah is headquartered in Victoria, British Columbia, Canada and has branch offices and/or sales representation in 11 cities across Canada, the United States and the United Kingdom. With more than 250,000 installations worldwide, Carmanah is one of the world's premier suppliers of energy-efficient products.