Carmanah has supplied the British Columbia Ministry of Transportation with R247C solar-powered flashing beacons for installation on the new median barriers near Goldstream Park on Vancouver Island's Malahat Drive. Carmanah's beacons are playing a part in a highway improvement project on this well-traveled stretch of highway to improve traffic safety.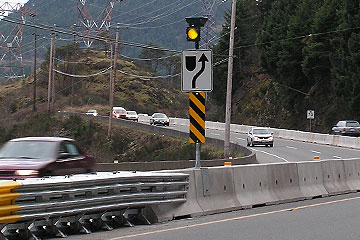 R247C 24-hour solar LED flashing beacon installed on the Malahat highway in Victoria, British Columbia, Canada.
As a section of the Trans Canada Highway, the Malahat Drive runs from Goldstream Park, just north of Victoria, to Mill Bay, British Columbia. The Malahat ascends to a 356-metre summit and winds through a scenic stretch of rugged, mountainous terrain. Due to regular high winds as well as poor nighttime and bad weather visibility, the Malahat is notorious as a dangerous stretch of highway with accidents and fatalities every year.
The Ministry of Transportation recently began a project to improve safety on the Malahat which included the addition of median barriers. Carmanah's R247C solar LED beacons were selected to enhance visibility of these barriers based on past success with Carmanah's products on the Malahat.
The Ministry also chose Carmanah's R247C because of the Company's recent success with the product on British Columbia's Sea-to-Sky Highway, a highway linking West Vancouver with Whistler, BC, and the location of Athletes Village and primary snow sports venue for the 2010 Olympic Winter Games. Carmanah's R247C 24-hour solar flashing beacons will provide enhanced visibility for warning signs and median dividers along Highway 99, drawing attention to sharp curves, obstructions, and speed zones. Carmanah's ultra-compact solar LED roadside beacons are ideally suited for the narrow median divider and limited shoulder space of the Sea-to-Sky Highway.
Carmanah's R247C beacons install in minutes onto existing 2″ square or 2 3/8″ round signposts with no trenching or cabling and they are completely self-contained with no external control cabinets. For unparalleled reliability, they operate using Carmanah's core MICROSOURCE™ energy management system, a technology proven in more than 250,000 installations in 110 countries. The R247C beacons automatically adjust to prevailing solar conditions to ensure continuous, dependable operation. They will flash 24 hours per day 365 days per year and are engineered for up to five years of maintenance-free operation.