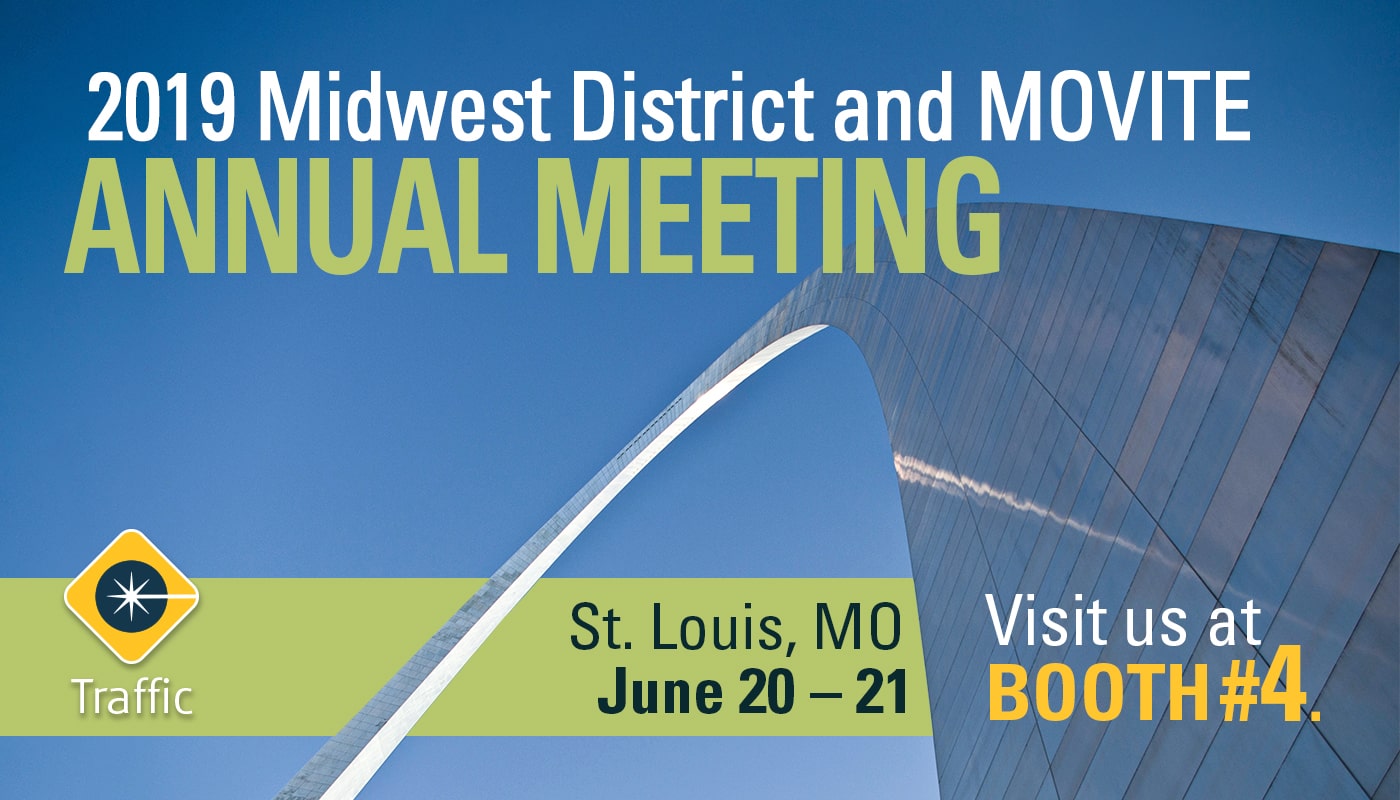 Event: 2019 Midwest District and MOVITE Annual Meeting
Location: Hyatt Regency – St. Louis at the Arch, St. Louis, MO
Conference Dates: June 20 – 21
Booth: #4
Hours:
Thursday, June 20: 8 AM – 5 PM
Friday, June 21: 8 AM – 12 PM
We're headed to St. Louis, Missouri, to exhibit at this year's 2019 Midwest District and MOVITE Annual Meeting! While you may find us atop the Gateway Arch taking in the views, we're spending most of our time on-ground with our handy RRFB talking about pedestrian safety. Can you see our RRFBs flashing on a street below if you're standing atop the Arch? Learn the answer and more at our booth!
We've been starting the spring and summer with a deep dive into school zone safety. Driving at inappropriate speeds can nearly triple the odds of being involved in a crash, and high speeds dramatically increase the likelihood of fatalities from traffic incidents. Traffic calming measures like radar speed signs can help slow the traffic flow in commercial and residential neighborhoods, improving safety for all road users. Come ask us about school zone safety and how our solutions help keep pedestrians safe, and watch our video series to learn more.
This year's meeting is in St. Louis by the new arch grounds. Sessions like Evolution of Technology for Signal Operations, Predicting the Effect of Connected Vehicles on Safety & Mobility, Real-Time 3rd Party Data for Better Maintenance of Traffic, and others tackle current and upcoming issues in the traffic and transportation space. Join us and other members for these awesome technical presentations, vendor displays, social contests, a golf event, and more!
Visit us at booth #4 to talk proven traffic safety treatments!