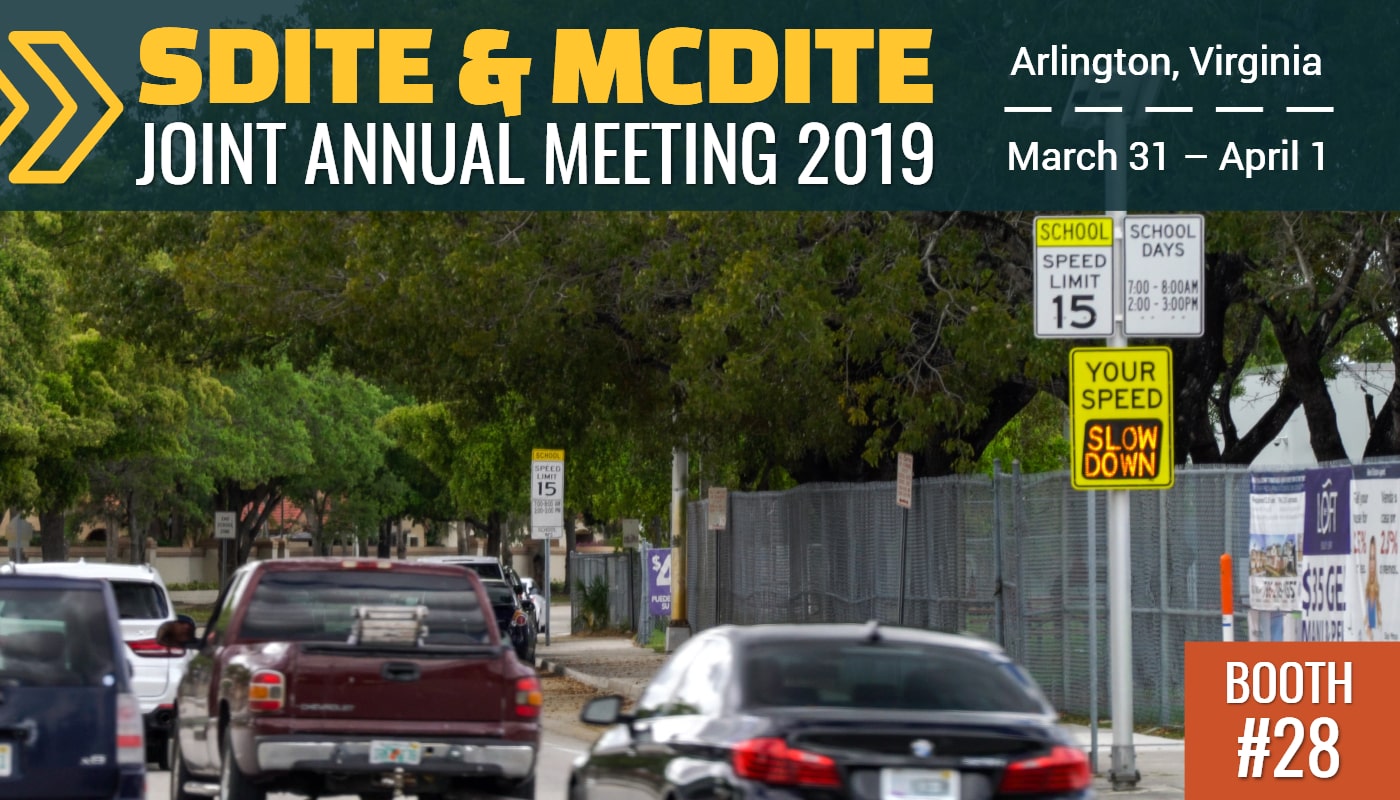 Event: Southern District and Mid-Colonial District ITE Joint Annual Meeting
Location: Crystal Gateway Marriott, Arlington, Virginia
Conference Dates: March 31 – April 1, 2019
Booth: #28
Hours:
Sunday, March 31: 6 – 7 PM
Monday, April 1: 10 AM – 3:30 PM
We're refreshed after spring break and ready for the 2019 SDITE & MCDITE Joint Annual Meeting in Arlington, Virginia. It's been about a year since we purchased patents for the rectangular rapid flashing beacon (RRFB) and disclaimed them, allowing the FHWA to reinstate RRFB interim approval. The RRFB's popularity has only continued to grow over the last year, and we're happy to continue to spread the word of their effectiveness.
Over the next few months, we're also taking a stand for school zone safety. 21,000 children are injured in school zones every year in the US, and speeding in school zones is still very common. Safety treatments, like installing school zone speed limit signs with beacons scheduled to flash during school hours, have proven to be effective at reducing driver speeds—keeping children and other pedestrians safe. Come chat with us about school zone safety and how our solutions help keep pedestrians safe, and watch our video series to learn more.
This year's meeting is the first Joint event between SDITE and MCDITE. Located at the intersection of both Districts, this Annual Meeting hosts numerous technical sessions, including "Cars of the 'Future,'" "Mobility As We Approach 2020," "Innovative Intersection and Corridor Projects," and others. Join members for technical presentations, vendor displays, social contests, a golf event, seminars, and more.
Visit us at booth #28 to talk proven traffic safety solutions!