Carmanah has been contracted by Peter Kiewit & Sons, the official contractors for the Sea-to-Sky Highway Improvement Project, British Columbia, Canada, to supply a preliminary order of three R247C solar-powered flashing roadway beacons. These beacons will be installed along Highway 99 that links West Vancouver with Whistler, BC, the location of Athletes Village and primary snow sports venue for the 2010 Olympic Winter Games.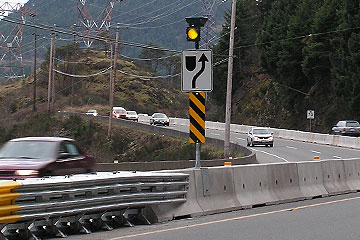 Set in a spectacular mountain landscape, the "Sea-to-Sky" Highway 99 presents complex engineering and construction challenges, as well as ongoing hazards to drivers. British Columbia's Ministry of Transportation is currently undertaking improvements to the highway, including widening and straightening the highway, improving sightlines, passing lanes and other design innovations. At the forefront of these improvements is enhancing safety and reliability by reducing hazards, shortening travel times and increasing the highway's capacity.
Carmanah's R247C 24-hour solar flashing beacons will provide enhanced visibility for warning signs and median dividers along Highway 99, drawing attention to sharp curves, obstructions, and speed zones. For this particular project, Carmanah's ultra-compact solar LED roadside beacons where ideally suited for the narrow median divider and limited shoulder space of the Sea-to-Sky Highway. Carmanah's R247C beacons install in minutes onto existing 2″ square or 2 3/8″ round signposts with no trenching or cabling and they are completely self-contained with no external control cabinets.
Though the Sea-to-Sky Highway presents a challenging solar environment, Carmanah's R247C beacons have been designed to operate 24 hours per day, 365 days per year under all types of environmental conditions. They incorporate Carmanah's patented MICROSOURCE® Energy Management System (EMS) and can automatically adjust to prevailing solar conditions to ensure maximum performance and reliability. The R247C beacons also feature no scheduled maintenance or servicing for up to 5 years.
More than 250,000 installations worldwide attest to the reliability and operational benefits of Carmanah's products.