Carmanah's Solar LED Lighting Group has received an order from Snohomish County, Washington for 79 units of its R829C compact solar school zone flasher. These LED-based flashing beacons were installed in various school zones throughout the County and will be used as a cost-effective means of improving safety in school zones by increasing driver awareness.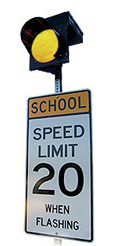 Carmanah's R829C User-Programmable School Zone Flasher. Solar-powered and using LED illumination, this flasher system can be installed in minutes and is designed to operate for up to 5 years with no maintenance.
Snohomish County is located on Puget Sound, between Skagit County and King County, and is the 13th largest county in total land area in Washington. The County chose Carmanah's solar LED solutions because these systems allow for 40% more units to be installed compared to the traditional hard-wired lighting systems. As well, the County could mount Carmanah's systems onto their existing poles.
About the R829 Solar School Zone Flasher
The R829 school zone flasher utilizes Carmanah's patented MICROSOURCE™ Energy Management System to automatically adjust to prevailing solar conditions for reliable year round operation under all weather conditions. Drawing on Carmanah's innovative compact control module or "solar engine", the R829 can be mounted high above the sidewalk, out of the path of pedestrians and out of the reach of vandals.
Significant long-term cost savings are also achieved by the R829, as it requires no external grid power. Other key operational benefits included no bulbs to replace for the life of the unit, as well as no scheduled maintenance or servicing for up to 5 years, at which point only the battery pack may need exchanging.
Carmanah manufactures compact solar flashing beacons for crosswalks, school zones, and 24-hour applications, and LED illuminated street-name signs and regulatory signs. More than 250,000 installations worldwide attest to the reliability and operational benefits of Carmanah's products.