Carmanah has received a contract for an evaluation R829C solar-powered school zone flashing beacon from a Stanislaus County located in California's Central Valley. Stanislaus County has also placed a blanket order for approximately five additional units, based on a successful trial.
This order follows a previous purchase for an evaluation unit of the R409, which was successfully trialed by the City of Oakland and is expected to lead to additional future orders.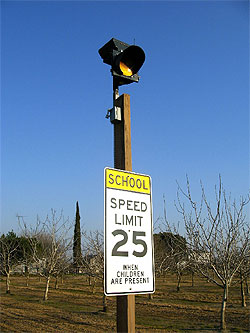 Carmanah's R829C solar-powered school zone flashing beacon installed in Stanislaus County, CA.
The ease and low cost of installing Carmanah's R829C solar LED school zone beacons played a major role in Stanislaus County's purchase decision. Carmanah's R829C is the only school zone flasher system on the market that mounts onto existing school zone signs in the field, facilitating substantial installation savings compared to conventional solar school zone flasher systems that require 4″ poles. In addition, with no trenching, cabling, or disruption to traffic flow during installation, users achieve additional significant installation cost savings.
Another factor that played into the County's purchase decision was Carmanah's compact design that conceals the solar panel. The R829C is ultra-compact and the most advanced solar-powered school zone flasher available. Its solar panel is not visible from the ground level and the system is less likely to be a target for vandalism as are other solar flashers with large tilted solar panels.
Using patented electronics, Carmanah's solar LED flashers feature additional operational benefits, such as no ongoing power costs and no scheduled maintenance or servicing for up to five years.
Automatically adjusting to prevailing solar conditions to provide reliable operation in all climates, the R829C flashes when it is needed most, alerting drivers that they are entering a school zone. The flashing sequence, which activates during peak times throughout the day for 15-45 minutes, is pre-programmed by the user for up to 500 days in advance through an easy-to-use Microsoft® Windows-based software. The R829C improves driver awareness in school zones about reducing vehicle speeds, while providing an unobtrusive, aesthetically pleasing alternative to existing technology. The R829C uses ITE compliant LED modules, and is the only school zone flasher that is MUTCD compliant.
Carmanah manufactures compact solar flashing beacons for crosswalks, school zones, and 24-hour applications, and LED illuminated street-name signs and regulatory signs. More than 250,000 installations worldwide attest to the reliability and operational benefits of Carmanah's products.