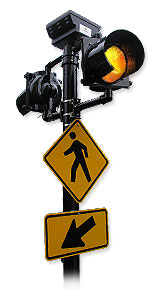 Carmanah's new R820C solar-powered LED pedestrian crosswalk beacon.
Carmanah is pleased to announce the release of the Model R820C, the most compact, energy-efficient and cost-effective solar LED pedestrian crosswalk beacon in the world.
The R820C builds upon the established reputation and field-proven capabilities of Carmanah's self-contained R820 solar flashing beacon – but is smaller, lighter, more energy efficient and available at a lower cost.
Innovative "Solar Engine" Design
The R820C pedestrian crosswalk beacon improves driver awareness of pedestrians at uncontrolled crosswalks. Drawing on Carmanah's innovative new compact control module or "solar engine," the R820C can be mounted high above the sidewalk, out of the path of pedestrians and out of the reach of vandals.
Like its predecessor, the R820C utilizes Carmanah's patented MICROSOURCE™ Energy Management System to automatically adjust to prevailing solar conditions for reliable year-round operation under all weather conditions.
Simple, Cost-Effective Installation
With no trenching, cabling, grid power hookup, or disruption to traffic flow, the R820C installs for a fraction of the cost of traditional hardwired systems; in fact, with minimal technical expertise, the R820C can be installed in minutes onto any existing signpost.
Significant long-term cost savings are also achieved by the R820C, as it requires no external grid power. Other key operational benefits included no bulbs to replace for the life of the unit, as well as no scheduled maintenance or servicing for up to 5 years, at which point only the battery pack may need exchanging.
Flexible Design
Carmanah's R820C pedestrian crosswalk beacon offers a unique, flexible design that enables any configuration of single, dual or bi-directional dual flashers. The R820C is entirely self-contained and does not require the use of an external control cabinet; all batteries and electronics are contained within the compact solar engine module. For maximum installation flexibility, this solar engine module can also be mounted separately on any length of pole, independent of its the signal head(s).
Regulatory Compatability
The R820C is the only self-contained, solar LED pedestrian crosswalk beacon that uses ITE* compliant LED modules and meets all MUTCD** requirements for flashing beacons.
With more than 250,000 installations, Carmanah is a world leader in renewable and energy-efficient technology solutions.
About Carmanah Technologies Corporation
Carmanah is an award-winning manufacturer specializing in energy-efficient technologies. The Company is currently focused on three technology groups: solar-powered LED lighting, solar power systems & equipment and LED-illuminated signage.
Carmanah is headquartered in Victoria, British Columbia, Canada and has branch offices and/or sales representation in 11 cities across Canada, the United States and the United Kingdom. With more than 250,000 installations worldwide, Carmanah is one of the world's premier suppliers of energy-efficient products.
---
* The International Institute of Transportation Engineers (ITE) facilitates the application of technology and scientific principles to research, planning, functional design, implementation, operation, policy development and management for any mode of transportation.
** Manual on Uniform Traffic Control Devices (MUTCD) is the standard for signs, signals and pavement markings in the USA.