The B.C. government has abandoned plans for a parking lot at Cathedral Grove that prompted environmentalists to camp out in the trees along Highway 4 for the past two years.
B.C. Parks will instead use "traffic-calming" devices to reduce congestion and improve safety where the road passes through the magnificent stands of old-growth Douglas fir.
The popularity of Cathedral Grove, also known as MacMillan Provincial Park, has made the stretch of road increasingly dangerous during the summer months as people pull off and on the highway. But environmental groups echoed the lyrics of Joni Mitchell in protesting plans to "pave paradise and put up a parking lot."
"My goal is for all visitors to MacMillan Park to have a memorable and safe experience," Environment Minister Barry Penner told the legislature during debate of his ministry's budget Wednesday. "These measures are expected to reduce hazards to drivers and pedestrians accessing the park."
Flashing amber lights `supplied by Carmanah Technologies Corporation`, overhead lighting, and other measures will be installed by summer to alert motorists to the congestion, he said.
"At this point, I can inform members of the house and the public that B.C. Parks does not have any intentions at this point of proceeding with the new parking lot option at Cathedral Grove," Penner said.
The decision is expected to end a two-year occupation of the park by protesters, who have been camping in the trees. Their numbers dwindled to about 10 over the winter, but can climb as high as 40 or 50 in the summer.
"I think everyone will be just happy to go home," Annette Tanner of the Western Canada Wilderness Committee said Wednesday.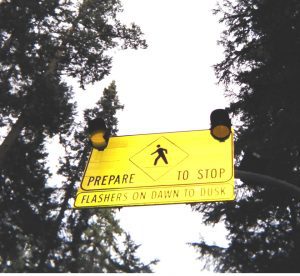 Richard Boyle, a spokesman for Friends of Cathedral Grove, said he was "ecstatic" over the announcement, but had yet to break the news to those in the trees. "The problem is that government can say one thing, and mean another," he said. "So people out there, having been there for well over two years now, are somewhat skeptical."
Penner's decision follows public meetings in Parksville and Port Alberni last November at which submissions ran 52 per cent in favour of traffic-calming methods, the ministry said.
"The minister's listening and I thank him for that," said NDP MLA Scott Fraser, who represents the area.