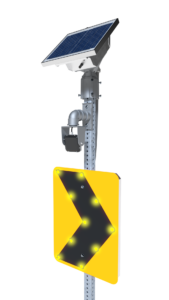 Almost half of all fatal vehicle crashes in the U.S. each year occur on rural roads, despite just 19% of the population living in rural areas. Half of them are roadway departure crashes, incidents in which a vehicle "crosses the edge or centerline, or otherwise leaves the travelled way." (source)
Carmanah's new chevron signs with remote connectivity can help—especially at horizontal curves with a history of roadway departure crashes.
The signs feature the same ultra-bright LEDs used in the company's best-selling RRFB and LED sign products, and meet MUTCD Standards for color, flash rate, and dimming. They can be activated by an optional radar kit, or can be programmed for dusk-to-dawn or 24/7 operation.
As part of the MX Series, the signs also feature out-of-the-box connectivity, giving agencies the ability to monitor and manage their dispersed assets from afar. A mobile app is also included for easy setup and local access.
"We are thrilled to introduce our new chevron signs to the market, especially as our first product offering geared specifically to rural areas," said Carmanah's Director of Business Development Aaron Lockwood. "In combining our solar expertise with LED signs, plus the added benefits of remote connectivity, we are offering agencies an innovative solution for improving safety, as well as operational efficiency."